Jet® 16'' x 42'' Wood Lathe 2HP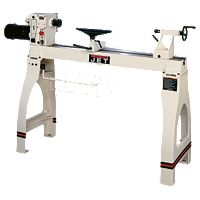 This, the largest of the JET lathes is a real powerhouse. With an electronic variable speed and sliding head you can turn bowls up to 16" over the bed, even larger projects off the end, and 42" spindles standard. Turn even longer projects with the optional bed extension.
Digital readout allows operator to dial in the desired speed for best results
Heavy-duty cast-iron lathe bed adds stability while limiting vibration during operation
Electronic inverter lets you operate the machine at any speed from 50 to 3,200 RPM
Indexing mechanism which allows for fast, efficient, fluting and veining operations
Sliding headstock may be positioned anywhere along the bed ways for maximum flexibility and user comfort
High/low speed change lever quickly changes belt positions
Spindle has positive locking indexing in 10 degree increments for fast, efficient fluting and veining operations
Built-in spindle locks let you remove or replace faceplates and chucks with ease
Live center has a removable pin for boring through stock
Cam-lock mechanisms allow adjustments of headstock, tailstock and tool rest base without having to use tools
Hollow tailstock allows you to perform long hole boring for lamps and other vessels
Special cast-in webbings in legs accept 2 x 4's or a 2 x 12 to construct a solid tool or sandbag shelf
Tool storage basket conveniently holds chisels and other tools within easy reach of operator
Product Specifications
Model Number
JWL-1642EVS-2
Brand
Jet
Height
27-1/2"
Width
28-1/2"
Length
58-1/2"
Net Weight
456 lbs
Swing Over Bed
16"
Swing Over Tool Rest Base
12"
Distance Between Centers
42"
Speeds
50-1200, 125-3200 RPM
Headstock Taper
MT-2
Spindle Nose
1-1/4" x 8 TPI
Hole Through Tailstock
3/8"
Ram Travel
4"
Centerline of Spindle to Floor
44-1/2"
Headstock Movement
Slide
Indexing Positions
36
Chuck Type
Cast Iron
Bed Construction
Cast Iron
Spindle Speeds
Infinite
Motor Power
2 HP
Motor Voltage
230 V
Prewired Voltage
230 V
Motor Current
6.1 A
Motor Phase
1 Ph
The JET 1642 Wood Lathes strike a perfect balance of versatility, cutting edge technology and performance. The 1642 Lathes have been designed and built to bring the accuracy, capability, durability and value you want in woodworking machinery. Find out all about these Lathes in their informative ProTalk Document (PDF).
711774
Jet 16'' x 42'' Wood Lathe 2HP (JWL-1642-2EVS)(708360)
There is an additional $95.00 shipping charge for this item.

Direct Ship
Online Only
$2,649.99 EA