Powermatic® Open End Belt Sander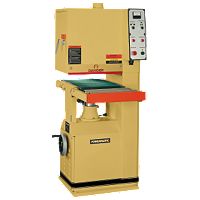 The 16" Open-End Sander has front mounted controls and a load meter, which maintains a constant check during operation. Metal-tipped safety limiters inside the machine will stop the sander immediately should belt breakage occur. The combination head means a more consistent finish, and pneumatic conveyor belt tracking keeps belts automatically centered.
The combination head promotes a more consistent finish
Pneumatic conveyor belt tracking keeps belt centered
Conveniently mounted load meter maintains constant check during operation
Limiters will stop sander instantly if belt breakage occurs
Side access door for easy belt changes
Product Specifications
Powermatic Part Number
1791250
Model Number
1632
Brand
Powermatic
Working Width
(Reversing Stock)
16" (32")
Working Thickness
5"
Minimum Board Length
13-3/4"
Head Configuration
Combination
Belt Speed
2200 SFPM
Belt Size
17" x 54"
Compressed Air Requirements
75 PSI
Dust Port Outside Diameter
4"
Dust Collection Minimum
CFM Required
800 cu.ft/min
Motor Power
5 HP
Motor Voltage
230 V
Motor Phase
1 Ph
Feed Motor Power
1/4 HP
Feed Motor Phase
1 Ph
Height
66"
Width
29"
Length
40"
Net Weight
996 lbs.
Standard Equipment:
5HP motor
Emergency rail stop
Emergency stop button
Dust collection port
17" x 54" sanding belt
711712
Powermatic Open End Belt Sander (1632)(1791250)

Direct Ship
Online Only
$6,462.99 EA