Select a Location: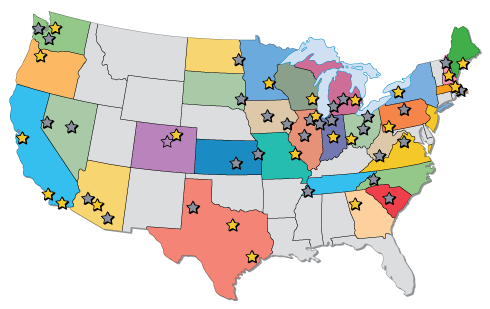 = Rockler Woodworking and Hardware Store

= Independent Rockler Reseller (Learn more) Join us to discover how much easier an affordable high volume, low pressure spray system can make applying lacquer, stains, water-based finishes, and oil-based paints. We'll demonstrate how to load and use the HVLP Spray system. If you have concerns about using a sprayer to apply finishes please bring them. T-Track tables have been gaining a following among woodworkers, we'll demonstrate how the T-Track Table system can be adapted to help you utilize your workshop space. Come see how versatile the T-Track table is and how easy it is to add stops, clamps, fences, risers and jigs.
We will be demonstrating how to use the Kreg Foreman Semi-Automatic Pocket Hole Machine to create pocket holes easily. Many woodworkers are familiar with Kregs other products and the Foreman lives up to their tradition for making quality joinery easier. Join us to see how much easier a Box Joint Jig makes joinery. We'll be going over how to set up as well as how to use the jig. Be sure to bring your questions! Wood turning not only allows you to create unique works of art but its fun too. We will be demonstrating some woodturning on the Excelsior Lathe using some pen turning tools. Together we'll go through how a lathe is used and will show some of the techniques you can use to create things ranging from pens to spindles and art. Steam bending allows you to bend wood into smooth, beautiful curved shapes that would normally break it. Join us to discover how easy it is to use our steam bending kit as well as some basics about steam bending itself. Join us to see how the Ready2Rout router table fence and the Ready2Lift Router Lift can be used together to increase accuracy and reduce the tedious task of setting up your router table between cuts. We will demonstrate how to use the computerized lift and fence to properly align your project between cuts easily.  See how you can cut dados, half blind dovetails and other joints without using a jig.
Find your local store above to see even more demos in your area!
Sign up to get special announcements from our store manager! You'll get the inside scoop on new products, special events, manager specials, and more. Go to the page for the store nearest you and sign up now!
Why not come and "Take a walk through our woods". We feature premium domestic and exotic lumber as well as hard-to-find veneers.
Would you like to turn your hobby into a career?
Rockler Companies has career opportunities available, and one of them might be just what you're looking for. Lots of variety and flexible hours. Please see our Career Center for position details and how you can join our fun loving team!