Select a Location: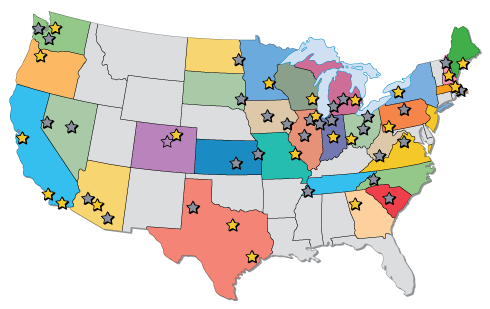 = Rockler Woodworking and Hardware Store

= Independent Rockler Reseller (Learn more) 11/29/2014 11AM
NO DEMO: Enjoy Thanksgiving Weekend
We hope you enjoy this weekend with family and friends or doing some woodworking at home! Due to how busy this week was there will be no demo this weekend. Wood turning not only allows you to create unique works of art but its fun too. Join us to see how enjoyable wood turning can be, this time we'll be focusing on the Excelsior Lathe and the Rockler Carbide Pen Turning Tool 3-Piece Set. We'll show you how to do some basic turning and are happy to answer questions you might have as well. Stop by to see how powerful this compact CNC machine is. It's 12" x 19" table makes it a great fit for smaller workshops allowing you to still carve small scale projects like plaques and ornamental boxes. We'll show you how easy it is to operate and what you need to know when you start working with one. Be sure to bring you questions or concerns! Join us to see how to use the General E-Z Pro Mortise & Tenon Jig with your favorite plunge router. We'll demonstrate how to set up your stock and cut your mortise and tenon using the jig. This is a great tool for beginner woodworkers who have just started doing mortise & tenon work or who are interested in learning. If you've ever wondered why so many woodworkers love Tormek's T-7 sharpening system this demonstration is for you. We'll be demonstrating how to use this coveted system to sharpen woodworking tools, including those tough to sharpen carving tools. Witness firsthand how nice the water cooled sharpening works. Join us to see how much easier a Box Joint Jig makes joinery. We'll be going over how to set up as well as how to use the jig. Be sure to bring your questions!
Find your local store above to see even more demos in your area!
Sign up to get special announcements from our store manager! You'll get the inside scoop on new products, special events, manager specials, and more. Go to the page for the store nearest you and sign up now!
Why not come and "Take a walk through our woods". We feature premium domestic and exotic lumber as well as hard-to-find veneers.
Would you like to turn your hobby into a career?
Rockler Companies has career opportunities available, and one of them might be just what you're looking for. Lots of variety and flexible hours. Please see our Career Center for position details and how you can join our fun loving team!