1-1/4" QuikTray Rollout Shelf Supports
Sturdy pilasters let you easily add roll-out shelves—included quick-release ''hook dowels'' let you quickly adjust the height of each shelf.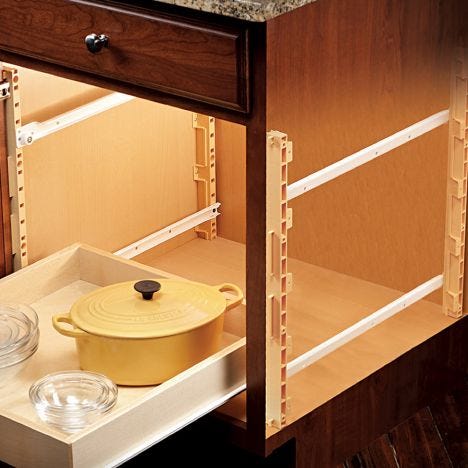 QuikTray allows you to easily add roll out shelves to your cabinets. Even better, this solution is easily adjustable, easy to install and durable. You can install up to 3 pull-out shelves and can easily change the vertical location of the shelves by simply moving the drawer slides along the vertical supports (pilasters). Pullout shelves/drawers allow you to not only organize your storage space better, but also to easily remove the shelves without using any tools. This tool-free ease can be used with a wide variety of drawer slides, either side-mount or concealed (undermount). The slides can be ball-bearing or European style. QuikTrays are ideal for holding pull-out shelves in the kitchen, bathroom, laundry room, workshop and garage. The pilasters come in tan or white, allowing you to match the rest of your room's theme.
How They Work
The QuikTray shelf system includes the vertical supports (pilasters) that attach directly into the cabinet. Once installed you can use hook dowels to connect your drawer slides to the pilasters. These hook dowels allow you to adjust the location of the slides without tools. The ease of simply popping slides in and out of the support makes installation easy and reduces errors that can result by traditional drawer slide instillation. This ease of use doesn't reduce durability and each shelf can hold up to 75lbs.
Drawer Slides and shelves are sold separately!
Suggestions:
You might find you need additional hook dowels, we suggest  T-506 hook dowels for side-mount drawer slides. We also suggest using Blum Low-Profile ¾ Extension drawer slides.
(4) Pilasters (Vertical Supports)
(8) T506 Style Hook Dowels
(8) Machine Screws (6-32" x 3/8")
(20) Pan Head Philips Screws
(1) Instructions
More Information
Weight
1.470000
Tech Spec

Weight Rating: 75lb Max per shelf
Test Cycles: slides were tested to 100,000 cycles at 75lbs
Hook dowels are made from Steel




Pilasters (Vertical Supports)

3 Shelves Maximum
Length: 20"
Protrudes: 1-1/4"
Colors: Available in white and tan
Made from Tough Polymer