2-Pack of 4-Way Divider Bins for Rockler Lock-Align Drawer Organizer System
Removable dividers help keep your hardware items neatly sorted, while dished bottoms allow easy scooping.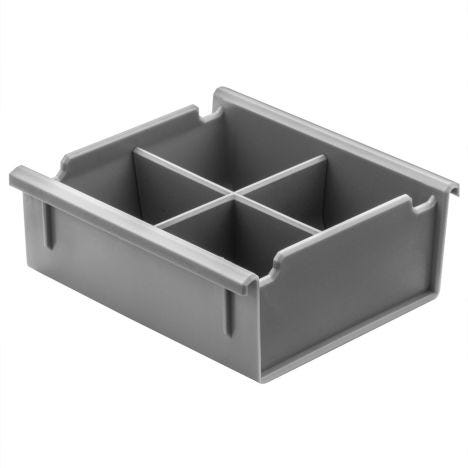 Use these 4-way parts bins to store small hardware items like hinge screws, nuts, wood plugs, brad nails and tacks. The bins feature removable dividers that help keep small items neatly sorted, as well as dished bottoms for easy scooping. The bins slide into slots in the standard-size tray sections of the Rockler Lock-Align Drawer Organizer system (sold separately). Two bins side-by-side also fit perfectly within the Wide Tray section (#57914, sold separately). The bins can also be used to splice two tray sections that are lined up end-to-end. Remove the bins and bring them close to where you are assembling your project for faster, more efficient workflow.
Features:
Use with the other components of the Rockler Lock-Align Drawer Organizer System to create an organized tray that is customized to fit your drawer and your items
Removable dividers help keep small items like hinge screws, nuts, wood plugs, brad nails and tacks neatly sorted
Dished bottoms for easy scooping of small hardware items
Easily removable so the bins are close at hand while you assemble
Bins can also be used to splice two tray sections that are lined up end-to-end
Not just for the shop—can be used to declutter any drawer in your shop, home or office
(2) 4-Way Divider Bins for Rockler Lock-Align Drawer Organizer System
More Information
Brand
Rockler
Weight
0.400000
Tech Spec

Overall Exterior Bin Dimensions (nominal): 3-11/16''W x 3-7/8''L x 1-7/16''H
Interior Bin Dimensions (no dividers, nominal): 3-1/16''W x 3-5/16''L x 1-5/16''H
Smallest Division Dimensions (with dividers, nominal): 1-7/16''W x 1-9/16''L x 1-5/16''H
Minimum Drawer Height: 1-5/8''
Bin Material: Glass-filled ABS