25-Piece HSS Brad Point Drill Bit Set, Imperial
Precisely ground brad points for accurate hole location and no wandering—hardened HSS for excellent edge retention.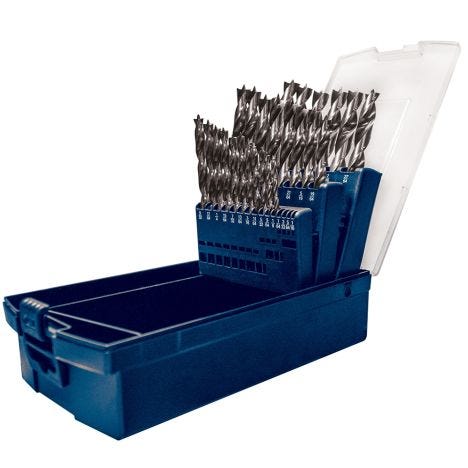 These brad point drill bits are made from select steel alloys that are carefully heat-treated to create a durable high-speed steel tip. The hardened tip resists wear and withstands heat well, while the softer shank helps to absorb the torque of the drill, preventing breakage. Each drill bit is fully ground for optimum cutting performance.
Features:
Brad point tips for precise hole location without wandering
Hardened and fully ground for excellent durability and performance
Includes 1/8'', 9/64'', 5/32'', 11/64'', 3/16'', 13/64'', 7/32'', 15/64'', 1/4'', 17/64'', 9/32'', 19/64'', 5/16'', 21/64'', 11/32'', 3/8'', 25/64'', 13/32'', 27/64'', 7/16'', 29/64'', 15/32'', 31/64'' and 1/2'' drill bits
Note: Drill bit diameters greater than 3/8'' have a stepped 3/8'' shank for use with a wider range of drills.
(1) 1/8'' HSS Brad Point Drill Bit
(1) 9/64'' HSS Brad Point Drill Bit
(1) 5/32'' HSS Brad Point Drill Bit
(1) 11/64'' HSS Brad Point Drill Bit
(1) 3/16'' HSS Brad Point Drill Bit
(1) 13/64'' HSS Brad Point Drill Bit
(1) 7/32'' HSS Brad Point Drill Bit
(1) 15/64'' HSS Brad Point Drill Bit
(1) 1/4'' HSS Brad Point Drill Bit
(1) 17/64'' HSS Brad Point Drill Bit
(1) 9/32'' HSS Brad Point Drill Bit
(1) 19/64'' HSS Brad Point Drill Bit
(1) 5/16'' HSS Brad Point Drill Bit
(1) 21/64'' HSS Brad Point Drill Bit
(1) 11/32'' HSS Brad Point Drill Bit
(1) 3/8'' HSS Brad Point Drill Bit
(1) 25/64'' HSS Brad Point Drill Bit
(1) 13/32'' HSS Brad Point Drill Bit
(1) 27/64'' HSS Brad Point Drill Bit
(1) 7/16'' HSS Brad Point Drill Bit
(1) 29/64'' HSS Brad Point Drill Bit
(1) 15/32'' HSS Brad Point Drill Bit
(1) 31/64'' HSS Brad Point Drill Bit
(1) 1/2'' HSS Brad Point Drill Bit
(1) Storage case
More Information
Manufacturer Part Number
37280
Weight
2.400000
Tech Spec

Bit Diameters: 1/8'', 9/64'', 5/32'', 11/64'', 3/16'', 13/64'', 7/32'', 15/64'', 1/4'', 17/64'', 9/32'', 19/64'', 5/16'', 21/64'', 11/32'', 3/8'', 25/64'', 13/32'', 27/64'', 7/16'', 29/64'', 15/32'', 31/64'', 1/2''
Material: HSS
Drill Bit Type: Brad Point