250W Branding Iron Head Only - HAND CRAFTED BY + 2 LINES
Interchangeable head for Drill Press Branding Irons.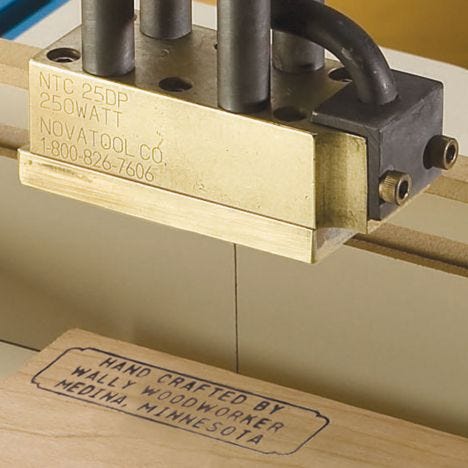 Ships directly from the manufacturer.
Personalized branding irons are non-returnable.
Estimated delivery time is 5 weeks.

Interchangeable branding iron head for the 250W Production Line Branding Iron features ''HAND CRAFTED BY'' and two additional custom lines (20 characters max. per line).
(1) 250W Branding Iron Head Only - HAND CRAFTED BY + 2 LINES
More Information
Manufacturer Part Number
NT-59
Weight
0.000000
Tech Spec

250 watts
Use only with an unplugged drill press
Choose up to 20 characters and/or spaces
Letters must be in all CAPS
Your Choice of Punctuation ! @ # % & ( ) - + : ; " ' < > , . ? /
Your Choice of Characters A-Z and 0-9