3/8'' Inset Double Demountable Cabinet Hinges
Fits older cabinets with T-shaped slots in the rabbeted door and in the face frame—offers easy removal and 3-way adjustability.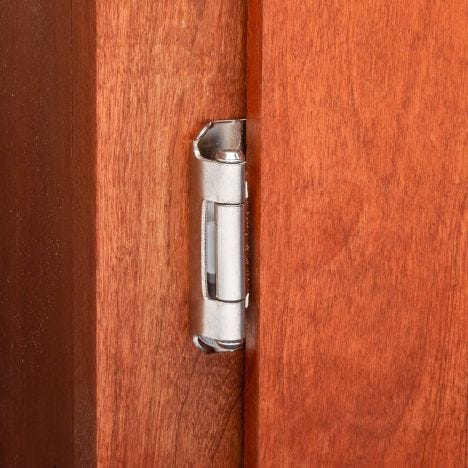 If you have older cabinets with hinges that fit into a T-shaped slot in the rabbeted door edge and a corresponding slot in the face frame, it's likely they are 3/8'' inset double demountable hinges. Double demountable hinges are easily removed from both the door and cabinet by loosening just two integral Phillips head screws, which hold the hinge in place with two clamping plates. The precursors to modern Euro hinges, double demountables also offer easy 3-way adjustability, since the clamping plates have adjustment room inside the slot mortises.
Notes:
These hinges are for 3/8'' inset doors with a rabbet around the edge
Look for a T-shaped slot mortise in both the door edge and the face frame to ensure compatibility
Double demountable hinges are also available for overlay doors (where no part of the door sits inside the face frame). See e.g. #65319, sold separately
(2) Amerock 3/8'' Inset Double Demountable Cabinet Hinges
(1) Pack of matching mounting hardware
More Information
Brand
Amerock
Tech Spec

Hinge Height: 2-1/4''
Hinge Width: 1-7/8''
Hinge Projection: 1-3/8''
Hinge Material: Plated steel
Style: Double Demountable
Overlay: 3/8" Inset
Closing: Self Closing