3M Pro Grade No Slip-Grip Sandpaper 3 Packs
Grippy backing prevents the folded paper from sliding against itself—no need to triple-fold or pinch the paper with your hand.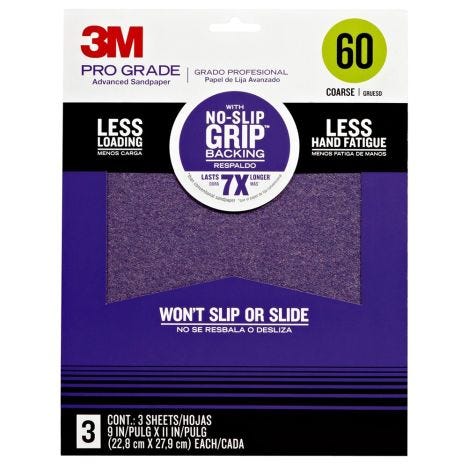 Ordinary sandpaper needs to be triple-folded to prevent the backing from sliding against itself and prematurely wrinkling or tearing the sheet. But the backing on 3M's No-Slip Grip 3-Pack sandpaper has just enough tackiness to prevent slipping, sliding or rolling. You can sand without folding at all, or fold it in half once and sand with your entire hand in an open, relaxed position. Since there's no need to grip the paper, you'll experience less fatigue, less wear-and-tear on your hands, and you'll cover large surfaces quickly. In addition, the grippy backing won't slip when used with sanding blocks and contour sanding blocks. With wrinkling at the fold minimized, the paper can last up to 7 times longer than conventional sandpaper.
Features:
Grippy backing won't slip, slide, roll or wrinkle, resulting in a longer sanding life
Lets you sand without pinching the sheet, using a relaxed, open grip and your own body weight
Use wet or dry—rinse and reuse for maximum abrasive life
(3) 3M No Slip-Grip Sandpaper Sheets
More Information
Brand
3M
Weight
1.000000
Tech Spec

Sheet Size: 9'' x 11''
Backing: No-Slip Grip™

Grit
60, 80, 100, 120, 150, 180, 220, 320