8-Piece Fisch Wave Cutter Forstner Bit Set with 35mm Bit
Wavy rim reduces friction and aids chip clearance—set includes 35mm bit for drilling doors for European concealed hinges.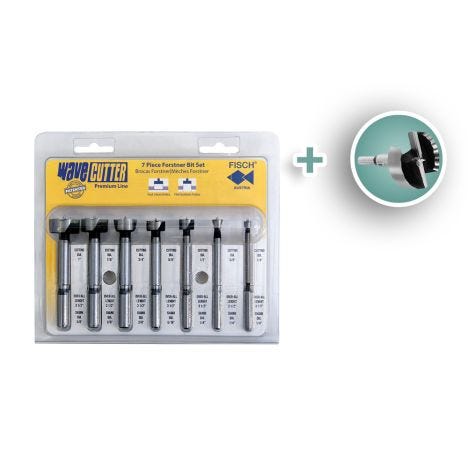 Fisch's Wave Cutter Forstner bits feature a wavy rim that guides the bit with all the precision of a traditional Forstner, but with less friction and heat buildup. The razor sharp serrations slice through the grain for minimal splintering, while also breaking up the waste for better chip clearance. The result is a bit that cuts faster and lasts up to three times as long as a standard Forstner bit. Use them to drill angled holes, overlapping holes and flat-bottom holes that are precisely true-to-size. They also excel at drilling into end grain without deflecting.
Features:
Wavy rim cuts like a knife to guide the bit and keep it on track
Serrations help to break up waste for better chip clearance
Low-friction and less heat for longer life
Resharpen up to 30 times for excellent longevity
All bits are 90mm (3-1/2'') long
Includes 35mm bit—perfect for boring doors for Euro hinges
8-Piece Fisch Wave Cutter Forstner Bit Set
(1) 1/4'' Fisch Wave Cutter Forstner Bit
(1) 3/8'' Fisch Wave Cutter Forstner Bit
(1) 1/2'' Fisch Wave Cutter Forstner Bit
(1) 5/8'' Fisch Wave Cutter Forstner Bit
(1) 3/4'' Fisch Wave Cutter Forstner Bit
(1) 7/8'' Fisch Wave Cutter Forstner Bit
(1) 1'' Fisch Wave Cutter Forstner Bit
(1) 35mm Fisch Wave Cutter Forstner Bit
More Information
Brand
Fisch
Manufacturer Part Number
59643, 58806
Tech Spec

Brand: Fisch
Drill Bit Type: Forstner/Wave Cutter
Drill Bit Diameters: 1/4'', 3/8'', 1/2'' 5/8'', 3/4'', 7/8'', 1'', 35mm
Drill Bit Length: 90mm (3-1/2'')