Rockler Adirondack Chair Plan and Templates with Foot Stool/Side Table Plans
Get plans and full-size templates for the chair, plus plans for a matching footstool and side table, all for low price! Stainless steel hardware pack includes all the screws and fasteners required to build our Adirondack Side Table and Foot Stool (sold separately).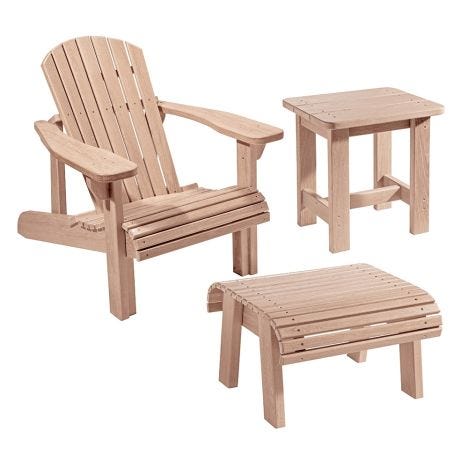 Pre-cut full-size cardboard templates make building this chair as easy as trace, cut and assemble! And with plans for a matching side table and footstool included, you'll have a place to set down some snacks and kick up your feet when the work is done. We've retained the same easy-to-build qualities of the classic Adirondack bench, but designed the frame and armrests for even better durability. With wide arms to perch drinks on and contoured seats and backs for two people, it's perfect for relaxing conversation. The plans include step-by-step instructions to walk you through the entire construction process.
Features:
Chair includes full-sized cardboard templates for cutting out the more difficult parts
Step-by-step instructions make it easy to build
Templates can be used again and again for multiple chairs
Templates also include markings for pilot holes and through-holes
We've made it easy to purchase all the fasteners you need to build our Adirondack Chair, Side Table and Foot Stool (sold separately). Rather than searching through bins at the hardware store or searching for multiple items online, our kit makes it as simple as one click, for one low price. Spend less time shopping and more time woodworking! All fasteners are made of stainless steel for maximum resistance to the elements.
Adirondack Chair Plans and Templates with Foot Stool and Side Table Plans (Item #55204)
(1) Set of Adirondack Chair Plans
(1) Set of Full-Sized Cardboard Chair Templates
(1) Set of Foot Stool and Side Table Plans
(1) Set of Step-by-Step Instructions

Stainless Steel Hardware Pack for Side Table/Foot Stool (Item #53234)
(38) #8 x 1-5/8'' Stainless Steel Deck Screws
(48) #8 x 2-1/2'' Stainless Steel Deck Screws
(1) Box

Stainless Steel Hardware Pack for Adirondack Chair (Item #54909)
(45) #8 x 1-5/8'' Stainless Steel Deck Screws
(38) #8 x 2-1/2'' Stainless Steel Deck Screws
(1) Box
More Information
Brand
Rockler
Tech Spec

Finished Adirondack Chair Measures Approximately: 32-3/4''W x 44-7/8''L x 36-1/4''H overall
Top of Seat (from the ground): 15-3/8''
Top of Armrest (from the ground): 24-1/2''
Finished Footstool Measures Approximately: 24''W x 24''D x 15''H Overall
Finished Side Table Measures Approximately: 24''W x 20''D x 24-1/2''H Overall
Hardware Material: Stainless steel
Made in USA