Aqua Coat Clear Wood Grain Filler
Fills in the pores of open-grained woods like oak, ash and mahogany for an exceptionally smooth finish.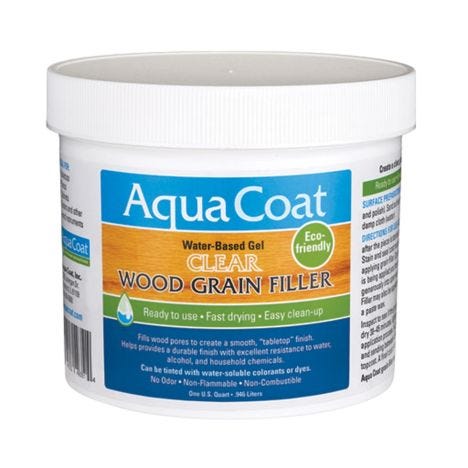 Aqua Coat Clear Wood Grain Filler is a water-based, low-odor gel that fills in the pores of coarse or open grained woods. Once paint or varnish is applied, it results in a remarkably smooth surface—a dramatic difference over pieces without pore filler. It's ideal for smoothing out the grain on oak cabinets, or to prep for a high-build, high-gloss finish on mahogany furniture. The fast-drying formula sands and levels quickly. Since it's clear, it can be applied on raw wood or over stain and sealers while permitting grain and color to show through.
Features:
Crystal clear—allows grain pattern and color to show through
Dries in just 30-45 minutes for a fast build
Easy-to-apply, easy-to-sand and easy-to-clean-up
Nonflammable, low-odor and low VOC
Can be tinted with water-soluble colorants or dyes
Can be thinned with water and cleans up with water
Minimal shrinkage
(1) Aqua Coat Clear Wood Grain Filler - Pint
(1) Aqua Coat Clear Wood Grain Filler - Quart
More Information
Tech Spec

Container Size: Pint or Quart
Color: Clear
Dry Time Between Coats: 30-45 minutes
Recommended # of Coats: 2-3
Consistency: Gel
Cleanup: Water