Armor P7-IL Auto-Adjust In-Line Dog Clamp
Fits into any 3/4'' diameter dog hole and auto-adjusts to secure almost any size of workpiece.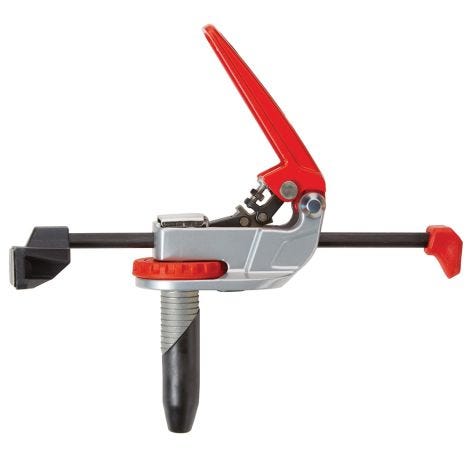 It's hard to beat the utility and convenience of these innovative new clamps. Just drop one into any 3/4'' dog hole and it rotates 360° to clamp at any angle. The sliding clamp rod offers plenty of adjustability, while the clamping pressure is automatically adjusted when you close the lever. Simply slide the clamping pad against your work, close the clamp and you're done. The pressure is also easily adjustable when needed—just turn the adjustment screw for more or less pressure. Once set, it stays the same for all workpiece sizes. The inline orientation is ideal for holding items against a fence or stop as you work. Two (or even one) used with a pair of bench dogs work much like a miniature tail vise.
Features:
Auto-Adjust: Armor's Auto-Adjust technology automatically adjusts to variations in workpiece dimensions while maintaining consistent clamping pressure
Adjustable Clamping Pressure: The integrated adjustment screw is used to create a wide range of clamping pressures. Rotate the screw clockwise to decrease and counterclockwise to increase the clamping force
Strong, Lightweight: Auto Clamps are constructed of ZAMAK Zinc alloy, which allows for an incredibly strong, lightweight tool
One-Handed Operation: Armor's Auto-Pro AutoClamps are designed for one-handed operation, a huge advantage over the competition
Large Soft-Grip Handle: Horizontal handle features soft insets for maximum grip and comfort
Hardened Steel Push Rod: Adjusts in and out quickly to hold varying shapes and sizes. Extends up to 3-1/2''
Versatile Split Dog Peg: Allows clamping wherever a 20mm or 3/4'' Dog hole is present and has the ability to rotate 360°
Hardened Plastic Tip with Non-Marring Pad: Center notch for clamping outside corners or rounded materials
Rotating Lock Knob: Works with the wedged dog peg for a secure connection to the dog hole
If you do not have a peg table, simply drill a 3/4'' hole in any work table (Recommended minimum table thickness is 3/4'')
(1) Armor P7-IL Auto-Adjust In-Line Dog Clamp
More Information
Brand
Armor
Manufacturer Part Number
P7-IL
Weight
1.250000
Tech Spec

Model No: P7-IL
Clamping Capacity: 0 to 3-3/4''
Adjustable Clamping Force: 25 to 550 lbs.
Holding Capacity: 700 lbs.
Approx. Weight: 1.3 lbs.
Overall Length: 8.5''
Overall Height Without Peg (Closed): 2.38''
Peg Length: Approximately 3''
Fits: 3/4'' dog hole

Jaw Depth
3-3/4"