Armor STC-HH70 Auto-Adjust Hold-Down Toggle Clamp, High-Profile
Applies fast, easy hold-down pressure—simply close the clamp and it automatically adjusts to the thickness of your workpiece!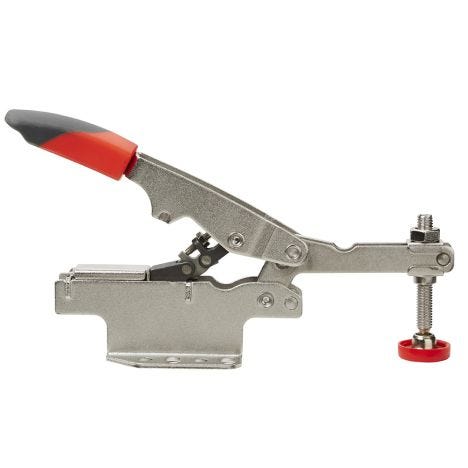 Armor Auto-Adjust toggle clamps automatically adjust for different thicknesses of material, eliminating the need to readjust the clamp when changing stock. Whether you're clamping a standard piece of 3/4'' stock or a thin sheet of veneer, one flip of the lever is all it takes to secure your work. The clamp applies downward pressure, making it ideal for workbenches, jigs and fixtures—anything you would use a hold-down clamp for. When closed, it maintains a horizontal orientation so it won't obstruct your work. Clamping force is easily adjustable—simply rotate the adjustment screw to increase or decrease the pressure. Once set, it stays the same for all thicknesses—just set it and forget it. The threaded post allows additional adjustment range when needed.
Features:
Auto-Adjust: Armor's Auto-Adjust technology automatically adjusts to variations in workpiece dimensions while maintaining consistent clamping pressure
Adjustable Clamping Pressure: The integrated adjustment screw is used to create a wide range of clamping pressures. Rotate the screw clockwise to decrease and counterclockwise to increase the clamping force
Strong, Lightweight: Auto Clamps are constructed of nickel plated 1050 heat-treat spring steel
One-Handed Operation: Armor's Auto-Pro AutoClamps are designed for one-handed operation, a huge advantage over the competition
Horizontal Base Plate: Horizontal plate features adjustable mounting holes on the base plate to accommodate most standard toggle mounting patterns
Large Soft-Grip Handle: Features soft insets for maximum grip and comfort
(1) Armor STC-HH70 Auto-Adjust Hold-Down Toggle Clamp, High-Profile
More Information
Brand
Armor
Manufacturer Part Number
STC-HH70
Weight
1.250000
Tech Spec

Model No: STC-HH70
Opening: 0 to 2-3/8''
Adjustable Clamping Force: 25 to 550 lbs.
Holding Capacity: 700 lbs.
Total Length: 8.77''
Opened Height: 7.43''
Closed Height: 2.51''
Approx. Weight: 1.2 lbs.
Fastener: 1/4'' or M6

Clamp Pressure
25-550 lbs