Birch Pullout Shelf Kit for Kitchen or Bath
Pullout shelf kits in birch plywood with slides. Various sizes. Actually a drawer not a shelf.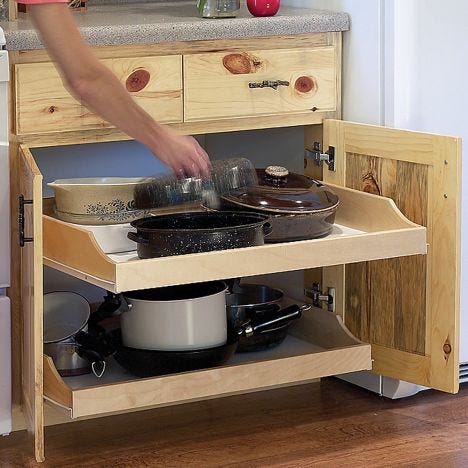 Easily install pullout shelving in your kitchen, bath, deep linen closet - wherever a more convenient reach is needed with Birch Pullout Shelf Kits for your Kitchen or Bath! Simply measure your cabinet opening, subtract 1" for the drawer slides and cut your shelving. Shelf is engineered with dovetail grooves so it can be sized to fit cabinet openings from 6" to 32" wide.
Note: If the shelf is cut to 15" wide or less, with an optional second set of slides (sold separately) you can build a second shelf. Use leftover pieces from Kit #29847, plus Slide Kit #32814 to build an additional shelf.
(1) Birch Pullout Shelf Kit for Kitchen or Bath
(1) Hardware
(1) Instructions for one shelf
More Information
Tech Spec
Item #27099 (20" Birch Pullout Shelf Kit (One Shelf), 1/4" Bottom):

Cabinet Depth: 20" to 22" deep


Item #29847 (22" Birch Pull-Out Shelf Kit (One Shelf), 1/4" Bottom):

Cabinet Depth: 22" to 24" deep




Sides and back are 1/2", 9-ply Baltic birch
Front: 3/4", 13-ply Baltic birch
Bottom: 1/4", melamine for easy cleaning
Finish: Unfinished (Birch)