Boeshield T-9 Rust and Corrosion Protection/Waterproof Lubrication, 12 oz. Aerosol
Superior corrosion protection and waterproof lubrication for your tools in an easy-to-apply aerosol can.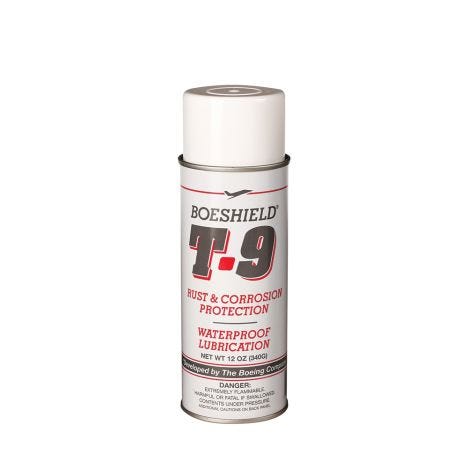 Must be shipped within 48 Contiguous United States.

Originally created by Boeing Aviation to combat corrosion in aircraft components, Boeshield T-9® is used today to protect against rust and corrosion on a wide variety of items, including workshop power tools. It provides superior corrosion protection and waterproof lubrication in one easy-to-apply, long-lasting formula. Just spray it on and it dries to a thin waxy film that clings tenaciously to metal surfaces. Leave a thick coating for additional rust protection, or spray on and wipe off for both rust protection and low-friction sliding on cast iron tops, such as those on jointers, table saws and router tables. An application of T-9 every few months will maintain the rust-inhibiting barrier.
Features:
Spray T-9 on and wipe off the excess for a waxy, waterproof finish with very little friction
Apply and let dry for one-step corrosion protection that lasts and lasts
Also loosens rusty parts, displaces moisture and flushes out old lubricants
Unique formula of solvent carrier and paraffin wax penetrates crevices, dissolves minor corrosion, and leaves a clean, waxy coating
Stays liquid long enough to seep deep inside assembled components without having to dismantle your equipment
Waterproof so you can rinse away sand, dust and grime with water, leaving the lubricant intact
Will not harm paint, plastic, rubber, fiberglass or vinyl—can be used on engines, wiring and belts
Perfect for coastal areas where salt is a concern
Also great for garden tools, chisels, planes and other hand tools
(1) Boeshield T-9 Rust and Corrosion Protection/Waterproof Lubrication, 12 oz. Aerosol
More Information
Brand
Boeshield
Manufacturer Part Number
T90012
Weight
1.000000
Tech Spec

Fluid Ounces: 12 oz.
Dispenser Type: Aerosol