Bosch CM10GD 10'' Dual-Bevel Axial-Glide Miter Saw
Articulating arm can crosscut stock up to 12'' wide, yet takes up far less space than typical gliding miter saws.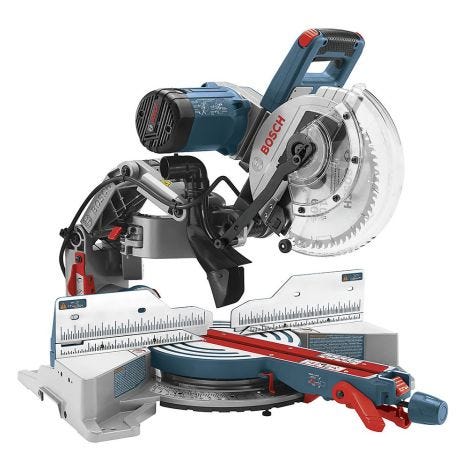 Additional Shipping and Handling Charge: $40
Additional Shipping and Handling Charge: $40
Take a close look at the hinging mechanism that connects this miter saw to its base. That's the Axial-Glide linkage, and it isn't just for looks—when pulled, it extends with incredible smoothness to allow crosscuts up to 12'' wide, without the need for the typical glide bar that would otherwise force you to pull the saw away from the wall for clearance. This compact, more space-efficient design is excellent for smaller shops and tight working quarters, saving up to 10'' of working space. Slide it right up to the wall and cut to your heart's content—you can say goodbye to those dents in the drywall. In addition, it won't creep out of alignment or become sticky over time, as typical gliders sometimes do.
Features:
Axial-Glide™ System provides consistent precision over tool life and a compact footprint, saving up to 10'' of workspace over typical gliding miter saws
Expanded 12'' horizontal cutting capacity (nominal); 5-1/2'' vertical capacity against the fence (base); 6'' crown capacity against the fence (45° spring)
Bevel controls are located up front for quick, easy bevel settings without reaching behind the saw
Chop/crown lock secures head in place for maximum chop cutting capacity for upright base molding and nested crown molding
Tall sliding 4-1/4'' fences for easy bevel setups and increased crown and base molding capacity
Large, easy-to-read uniform bevel & stainless steel miter scales: 52° left/60° right miter capacity; 47° left/47° right bevel capacity with marked detents and roof pitch angles
Adjustable miter detents at 0°, 15°, 31.6°, 22.5°, 45°, 60° right super-accurate and durable design
Push-button miter detent override with easy-to-access thumb-actuated control for fine miter angle adjustment
Bevel detents at 0°, 33.9° and 45° left/right for accurate cuts
Category best 90% dust collection is optimized for cutting 2x material with a vacuum
Ambidextrous trigger with soft grip ergonomic handle provides comfort for all-day use
(1) Bosch CM10GD 10'' Dual-Bevel Axial-Glide Miter Saw
(1) 10'' 60T Blade

With the Rockler Protection Plan you'll get accidental damage coverage immediately upon purchase of your tool. Plus we will extend the manufacturer's warranty for your choice of an additional 1 or 2 years. We'll take care of all parts and labor for any repairs with no deductibles and no hassles. If your tool can not be repaired we'll gladly replace it. Available in the US only. Click here to learn more.
Standard Manufacturer's Warranty: 12 months
More Information
Brand
Bosch
Manufacturer Part Number
CM10GD
Tech Spec

Bevel Angle Range: 47° left and 47° right
Bevel Stops: 0°, 33.9°, 45° left and right
Cord Length: 6'
Height: 20-1/2''
Length: 32''
Miter Angle Range: 52° Left, 60° Right
Miter Detents: 0°, 15°, 22.5°, 31.6°, 45° (Left/Right)
Miter Positive Stops: 0°, 15°, 22.5,° 31.6°, 45° (Left/Right)

Cord/Cordless
Corded
Saw Blade Speed
4,800 RPM
Saw Blade Diameter
10"
Dust Collection
Dust Bag