California Air Tools SprayIt LVLP Gravity-Feed Dual Spray Gun Kit SP-33500K
Dual-gun gravity-feed spray gun kit features LVLP technology for better control, less overspray and compatibility with smaller compressors.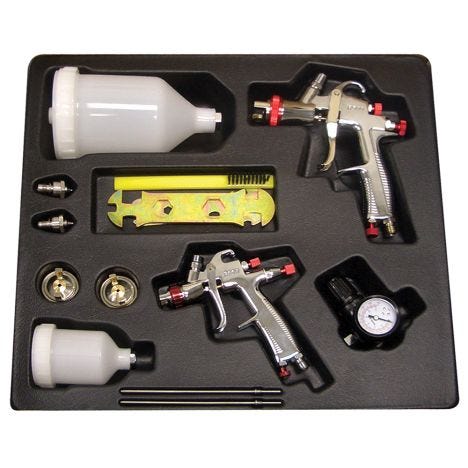 Direct Ship - Estimated Ship Date: 06/19/2023
If you're looking for a flawless finish, grab the California Air Tools 33500K Dual-Gun Gravity-Feed Spray Gun Kit! Thanks to LVLP (low volume, low pressure) technology, you'll get better control, less overspray and easy compatibility with a variety of smaller air compressors (sold separately). This pair is a great fit for woodworking projects, automotive paints and industrial and marine applications. The LVLP design requires less air, allowing you to use a smaller, more portable air compressor. You'll be able to spray large surfaces without having to stop, and almost all of the finish goes onto your project rather than into the air. This means less mess and less waste. The fluid needles and nozzles are made from stainless steel for maximum corrosion resistance. The spray pattern and airflow controls are independently adjustable for optimal coating characteristics.
California Air Tools 33500K Gravity-Feed Spray Gun Kit Details:
Includes SP-33500 LVLP Mini Gravity-Feed Spray Gun, SP-33000 LVLP Gravity-Feed Spray Gun, 0.8, 1.3, 1.7 and 2.0 mm needle kits and air regulator
One-piece lightweight aluminum gun bodies with plastic fluid cups
600cc (20 oz) and 120cc (4 oz) cup capacities
Maximum pressure is 60 psi
California Air Tools SprayIt LVLP Gravity-Feed Spray Gun Kit SP-33500K
(1) SP-33000 LVLP Gravity Feed Spray Gun
(1) SP-33500 LVLP Mini Gravity Feed Spray Gun
(1) 0.8mm Needle Kit
(1) 1.3mm Needle Kit
(1) 1.7mm Needle Kit
(1) 2.0mm Needle Kit
(1) Air Regulator
(1) Spray Gun Cleaning Kit
More Information
Manufacturer Part Number
33500K
Weight
3.000000
Tech Spec

33500 Spray Gun:

Brand: California Air Tools, Inc D.S.
Manufacturer Part Number: 33500
Air inlet: 1/4''
Includes: 0.8mm Dia. Nozzle
Fluid Cup: 4 oz / 120 cc
Fluid Cup Thread: M14*1.0
Pattern Width: 6 to 10 inches
Weight: 11 oz
Air Consumption: 2.4 to 3.3 CFM @ 30 PSI
Working Pressure: 28 to 45 PSI
Maximum Pressure: 60 PSI

33000 Spray Gun:

Brand: California Air Tools, Inc D.S.
Manufacturer Part Number: 33000
Air inlet: 1/4''
Includes: 1.3mm Dia. Nozzle
Fluid Cup: 20 oz / 0.6 l / 600 cc
Fluid Cup Thread: M16*1.5 The 3M PPS model number for the SP-33000 Spray Gun is #16003
Optional Dia. Nozzles: 1.5mm to 2.0mm
Pattern Width: 6 to 10 inches
Weight: 19 oz
Air Consumption: 3.5 to 3.9 CFM @ 30 PSI
Working Pressure: 28 to 40 PSI
Maximum Pressure: 60 PSI