Our Story
The Rockler story began in 1954, when Nordy Rockler started the Minnesota Woodworkers Supply Company in Minneapolis. Over 60 years, that small mail-order business would expand and evolve into the Rockler Woodworking and Hardware of today: an industry-leading source of tools and supplies with a publishing division, a nationwide network of retail stores and an international presence through the catalog and website. But the Rockler story is not just about the company. It's about the generations of woodworkers who have taken the products we sell and made them part of their own stories – in the form of elegant heirlooms and special projects that will testify to their love of the craft for years to come. In short, it's about you, our customers.
Send Us Your Story
As we mark our 60th Anniversary, we'd love to hear your stories from the past 60 years:
projects you are most proud of or hold most dear
your favorite memories in the shop
your triumphs and even your missteps
what you've learned along the way.
If you can send a photo to go along with your story, even better. We'll post them here as a tribute to six decades of shared passion for the craft of woodworking.
Email your woodworking stories to: celebrate60@rockler.com
Thanks for helping us celebrate 60 years of woodworking!

If you submit a story that we use, we will add your name into a drawing for a $100 Rockler Gift Card.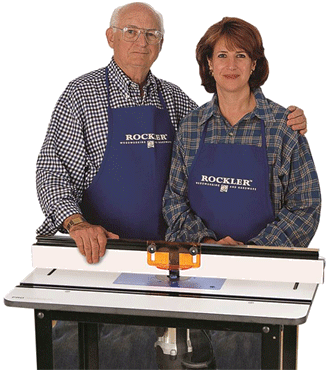 Your Stories from 60 Years of Woodworking
---
Daniel I.
My passion for woodworking began as child with a cross-cut saw (the manual variety), scraps of wood, and advice from my father. Crude bird houses and bird feeders were among my earliest projects. I also seemed to specialize in turning my fingernails black when I didn't hit the nail on the head !! At around 10 years old, I was allowed to use my father's scroll saw (then called a jig saw). No calendar picture was safe as I'd glue them onto a piece of thin plywood and try my best to cut interlocking puzzle pieces. Many scroll saw blades were sacrificed in my early attempts but I got better with practice. Besides puzzles, many garden ornaments (birds in particular) sprung from the basement.
Over the years, I've made bookshelves, entertainment centers, lamps, you name it but I never forgot the fun I had with that old scroll saw. To make a long story short, I finally bought a scroll saw about 25 years ago and began making three-dimensional animal faces by layering pieces of 1/4" plywood and staining them. The picture of the deer head I've attached was the first such adult project. Then about five years ago I stumbled upon a process called segmentation and have become a devotee. Segmentation involves cutting "puzzle pieces" from a single piece of wood, rounding the edges of the pieces, staining them, and gluing the segments back together. This creates a picture with depth and color. I had a hard time choosing my favorite creation in this style, but the leopard picture I've attached is among my top five segmentation projects.
Rockler has been a long-time friend, seeming to always have just what I need...things you can't find in a big box store. Wishing you another 60 years of success. Perhaps my grandson will get to smile as his Rockler purchase arrives !!
---
Frank S
Don't know if this is the correct spot or not! I found Now Rockler when ya'll was in Rogers? Minn,around 1964ish. I was a young Woodshop teacher with about 3 years under my belt. I ordered hardware for the next 27 years from ya'll. and just recently ordered two of your pock-it hole clamps .I always fussed about the S/H,well we have a store hour away and with the price of gas S/H is cheap. I taught at Forest Park High School ,Georgia for 30years, and enjoyed every year. I don't remember a problem with any of my orders.
---
captainferret75
My Wife let me know that my mother in law asked about making a case for my father in laws belt buckles from the Cattlemen. So I whipped up this case. Little did I know there was a long standing battle over the belt buckles needing to be moved off of a bookshelf. So When I gave it to him I suddenly became part of the anti belt buckle conspiracy. Sometimes you can't win.
---
Mr. Ed
Ann,
I have worked with wood since my High School years To me there is a lot of enjoyment in wood working and project on my thoughts on some are, can I do it?
Two I'm proud of is a foot stool I made in High School, just don't know how I made the quarter inch groove for the caning on the bent curve top.
My other is a Pie Tin Cabinet I made for my wife to make more space for our pots and pans I always remember Grandma always had a pie tin cabinet.
I made it as if on the farm and the wife told the husband build me a cabinet for my pies He did just that, didn't make a trip to the hardware store, looked in the barn to use whatever he had to quickly make it to get it done The hinges were placed on the outside as he probably would have done just to hurry it up Then added the tin to allow to let heat out but keep it fresh The wife is happy with it and will used it for many yearsI done just that and we use it for cook book storage and glassware items and other things My wife uses it daily just loves it.
It was put together using the kreg system Now it will be handed down on to our kids when we are done with it.
---
Roger
Dear Rockler,
For years, I watched every this Old House, New Yankee Work Shop and every other wood working program out there. I thoroughly enjoyed watching people build things. My father in law, Charlie, was a contractor and always suggested I build something. He was a wonderful father-in-law and an absolutely fantastic grandfather to my son.
Well, just after 2000, Charlie passed away. This was a difficult time for all of us, but my seven year old son was particularly hit hard. At his funeral, my son came up to me with huge tears in his eyes (I can still see them) and asked if that meant he would no longer be able to do woodworking.
With tears in my own eyes, I said of course he could - we would simply do it together!
With my wife's permission, I bought a table saw and router and decided we would build a desk. I had the knowledge, but Charlie's death gave me the courage. With my son's love and encouragement, I backed the cars out of the garage, line up my lumber, and fired up my new table saw. At that point, my son shrieked at the noise and ran into the house. It took a while to figure out, but "woodworking" meant my father-in-law would sit my son on his basement work bench and allow him to pound roofing nails into a blob of plumber's putty. When I son left, my farther-in-law would patiently pull the nails out of the putty and set it up for the next visit. That is what they called woodworking. They would sit down in his shop for hours learning the fine art "wood working" and the basics of shooting the breeze. I can only imagine what they talked about.
Well, I could just stop the effort. I took a while, but we figured out that I would do the cutting and he would help with everything else. Fourteen years later, we built three desks, two sets of book cases, two coffee tables, and a TV stand.
My son recently graduated from college. My gift to him is my father's ship clock and barometer placed on a quarter-sawn-oak stand. Something material from my dad, something spiritual from my father-in-law.
-------
Thank you Charlie for your love and encouragement. Thank you Rockler for the support and giving me an opportunity to send this letter.
I have wanted to write this a long time.
---
Peter D.
My son joined cub scouts in 1993, one of the dad's, John Martino, was a woodworking with a shop in his basement. Beginning with Pine Wood Derby kits, John introduced the boys to wood working. Fast forward 20 years later our "boys" are Eagle Scouts with picnic tables, bird houses, map storage cases and dorm tables in there " I built that" memories. Woodworking has made John and I have life long friends, often working in each other's shop. Nether of us goes to Rockler (Tuckwilla,Wa) alone and enjoy interacting with the store staff who answer questions and make suggestions to help us complete our "I built that" memories.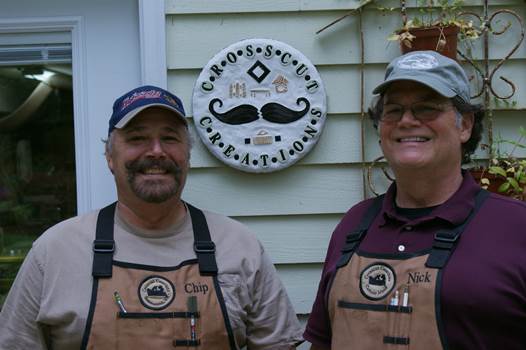 ---
Lynn T.
This story is submitted to honor my father, who very well could be the oldest living woodworker. Dad is now 95. Dad doesn't drive anymore, so I am regularly asked to take him to his favorite store; Rockler in Seattle, Washington.
Dad buys his wood, supplies and tools, enjoying his outings and the service provided by the friendly staff. He has also been a student in Mr. Jim Klinger's scrollsaw class after purchasing a scrollsaw. The class was wonderful introduction for using his new toy! Dad was proud to be able to finish all the projects under the expert and caring instruction provided by Jim during this class.
The latest projects dad has completed now sit in our gardens and yard; a pair of beautiful English garden benches and a set of Adirondack chairs, made from patterns and wood purchased at Rockler. Beautiful outdoor furniture aside, dad's passion and favorite pastime continues to be manufacturing his wood turtles, or "honu" in the Hawaiian language. Dad uses many tools and handwork, and does his own designs of turtles, which coincidentally symbolize long life in our culture.
My dad is a hero and a role model. He is an American veteran, a husband, grandfather, father, retired engineer and entrepreneur....and a woodworker. Dad knows how to live life with energy and a love for being active, even at his age. Thank you for the opportunity to share my story and to let you know how much happiness Rockler has provided to our family, through dad's passion for woodworking.
---
Rev. "Jimmy Mac"
I began woodworking about 18 years ago. What began as a hobby quickly proved itself to becoming profitable; so much so that it began to "cost" me money to go to my regular job.
When I first got the "itch to make sawdust" - I was told about Rockler. "If it has ANYTHING to do with woodworking, Rockler knows it, has it, and can ship it" I was told. I've never been let down since. It's been a fun ride; difficult at times with the end of a marriage and the sale of all my equipment. God had greater plans and now that I'm moving toward retirement, He managed to place one of "His kids" in my life. We were married six years ago and my second greatest dream is coming into reality once again. I will be opening my shop up - bigger and better than ever before, and of all places - Minnesota.
My greatest project "would" have been described as either a dry sink, matching bookcases, or even some of the custom gun cabinets I had built over the years. But I can honestly say that my GREATEST project - is the one "yet to come."
I've learned a LOT over the years. Things like "buy once - cry once" - when it comes to the better tools, hardware, and jigs is a very true statement.
I've also learned to NEVER step into the shop with a new pair of glasses and first go to the table saw. It was a very minor mishap but the little scar I have today is a constant reminder that I could have lost a finger.
When you put the same "heart" into a project that the Rockler Family has put into their business over the years, you can sign your name with pride and confidence. Thanks for this opportunity and above all - CONGRATULATIONS on an amazing legacy you've helped so many of us woodworkers to hand down to the next generation. I'm looking forward to visiting your Minnetonka location when we get to Lake Osakis next spring!
God bless -
---
Lyman H.
I have an outdoor shop where I do my woodworking. It is unheated and the only air conditioning is from a large fan. In the summer time, it is too hot to work and in the winter, it is too cold to work. But, a few weeks ago, my wife (bless her heart) said that I could use our basement, which is heated and air conditioned, for the sanding and assembly of my projects under two conditions.
CONDITION ONE:
I have to make her and the Great Grandkids some nice keepsake projects. I have no problem on that one.
CONDITION TWO:
I have to contain the dust and keep it from filtering into the upstairs living area. Now! that is a problem... Part of the solution is the Downdraft Table Panels and the Downdraft Table Plan from Rockler. When I sand, I just connect the box to my shop vac, bump my work up against the orange stops and the dust goes down through the holes and rubber grommets. I made a few changes to the Rockler plan like the hand-hold recesses in the ends, and I was able to combine historical woodworking and modern woodworking by using Knapp joints, from the 1870s, on the corners which I made on my CNC Router. I am very pleased with the results and am including a picture of the finished Downdraft Table/Box. Best of all my wife is happy with the dust control.
Now I just have to work on condition one.
---
Doug L.
Rockler
I would like to tell you a story of growing up! My Dad was a Jack of all Trades Journeyman Carpenter for a large West Texas Independent oil company. He could do anything! He raised four kids and I am the third child, 2nd son. My parents also either adopted or took in another 9 kids while I was still at home. Dad was Scout Master, baseball coach, and SS Teacher while Mom was Den Leader, score keeper and SS Teacher.
Every Saturday morning except on campout weekends, all of us kids loaded up in the 49 Dodge pickup and went to work on some project for extra money for the family; Roofing, building fences, pulling tree stumps and remodeling. Off to Home Lumber Company at 6:30 AM where we got one doughnut and a glass of milk for breakfast in the back of the truck.
No Saturday morning cartoons for us! And it seemed tough at the time but all of us worked together.
I worked my way through college as an oilfield roust about for the same company he worked. I majored in Industrial Education though I never had a shop class in Junior or Senior High School. College graduation came as Industrial Engineer however and I work in the oil fields around the world as a logging engineer and analyst.
But my main story comes after my Dad passed. Working in my garage now as a 50-60 year old I build projects for my three kids and 6 grandchildren. So many times I am stumped by a wood working problem since I mainly design what I want and have to work out the processes. Nearly every time I set foot in the garage shop where I have to move everything in and out of the work area, I get a problem that seems insurmountable.
That's when I can close my eyes and see my Dad with that pencil on his ear, cigarette in one hand and those carpenter overalls. He would stare into space sometimes and not say a word. It was irritating to us kids to say the least. I now know he was figuring it out in his head.
My wife now laughs when I come in from the garage with a huge smile on my face, she knows I solved a problem thinking about working with my Dad and siblings, even though dad has been gone these 25 years now. She asked me one time what I was making and I told her, "sawdust and memories." A neighbor asked one time what I was smiling for and I remarked, "Oh, I was just standing here building and having a conversation with my Dad!" He looked around and saw no one. Wood working brings me peace and the products are memories for my kids and grandkids.
---
Bill G.
Blood, sweat and tears project
A memorial shadow box for my wife's death. She was a loved, admired English/drama teacher and director at Lincoln-Way High School. She passed away unexpectedly overnight during a school week. Her colleagues asked me to build a shadow box for the theater foyer of the school. I had designed and built her play sets twice a year for 10 years. Unfortunately the blood entered the project when I did something any woodworker knows you can't do. I attempted to reverse my blind dado in the oak stiles. I nicked both of my middle fingers which sent me to the emergency room. That caused us to postpone the ceremony for the installation. The shadow box featured my wife's poem, "I Want To See You Fly", that she wrote when chosen to be teacher of the year. I carved the masks from ebony and redheart for the school colors. The shadow box is 2' x 3' x 9" deep.
Rockler tools compliment every corner of my shop.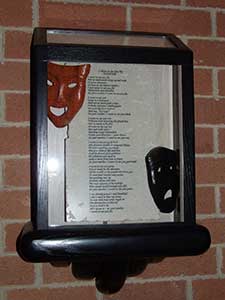 ---
chalupe1
I have always enjoyed working with wood, ever since my father let me borrow an old scroll saw when I was about four or five years old. I still have an old hand saw that he gave a long time ago. He passed away in 2007. By the way I was born sixty years ago, on June 7, 1954!!!
---
John K.
"What Medals? ... " I e-mailed back to my sister Mary. Soon, I was on the phone with my folks: Mom on one line, Dad on the other. I knew Dad was in World War II and that he was a radioman (he's still liable to use Morse code on the arm of his chair during a close football game) . But he hardly ever talked about the war ... "I just wanted to get on with my life ," he explained recently. After all these years, he decided it was time to find a more suitable place for a number of medals, photos and other memorabilia from his war days. I immediately volunteered to create this "more suitable place."
The design process started with my parents. First, they decided that a wall-hung cabinet with a glass door would be the perfect container for the items uncler consideration. My mom had just the spot for such a cabinet (which helped dictate the final size) and an idea of which species she'd like: "Cherry ... that's kind of reddish, right? That would be nice."
Sorting through all of the stuff my dad sent took the designing process to the next level - deciding how to layout the inside of the box. The commendations seemed like such humble documents - no foil stampings, no script, just a blue ribbon in an old manual typewriter, probably banged out somewhere on a beach. I was happy to see that some photos were included. While the medals were the reason for the case, my Dad's face in all of those situations made the medals and commendations seem more personal.
Read the rest of John's Story here. A Case for Commendations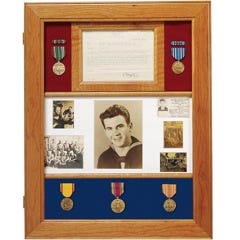 ---
Scott R.
One of the things I love about woodworking is that the enjoyment doesn't end when the project's done. You get to see your work in use, fulfilling the purpose you had hoped it would – whether that purpose is holding books, housing tools or, as you can see in the photo, arming your kid for battle against imaginary villains. And as the pieces age and endure, your satisfaction takes on a patina of its own.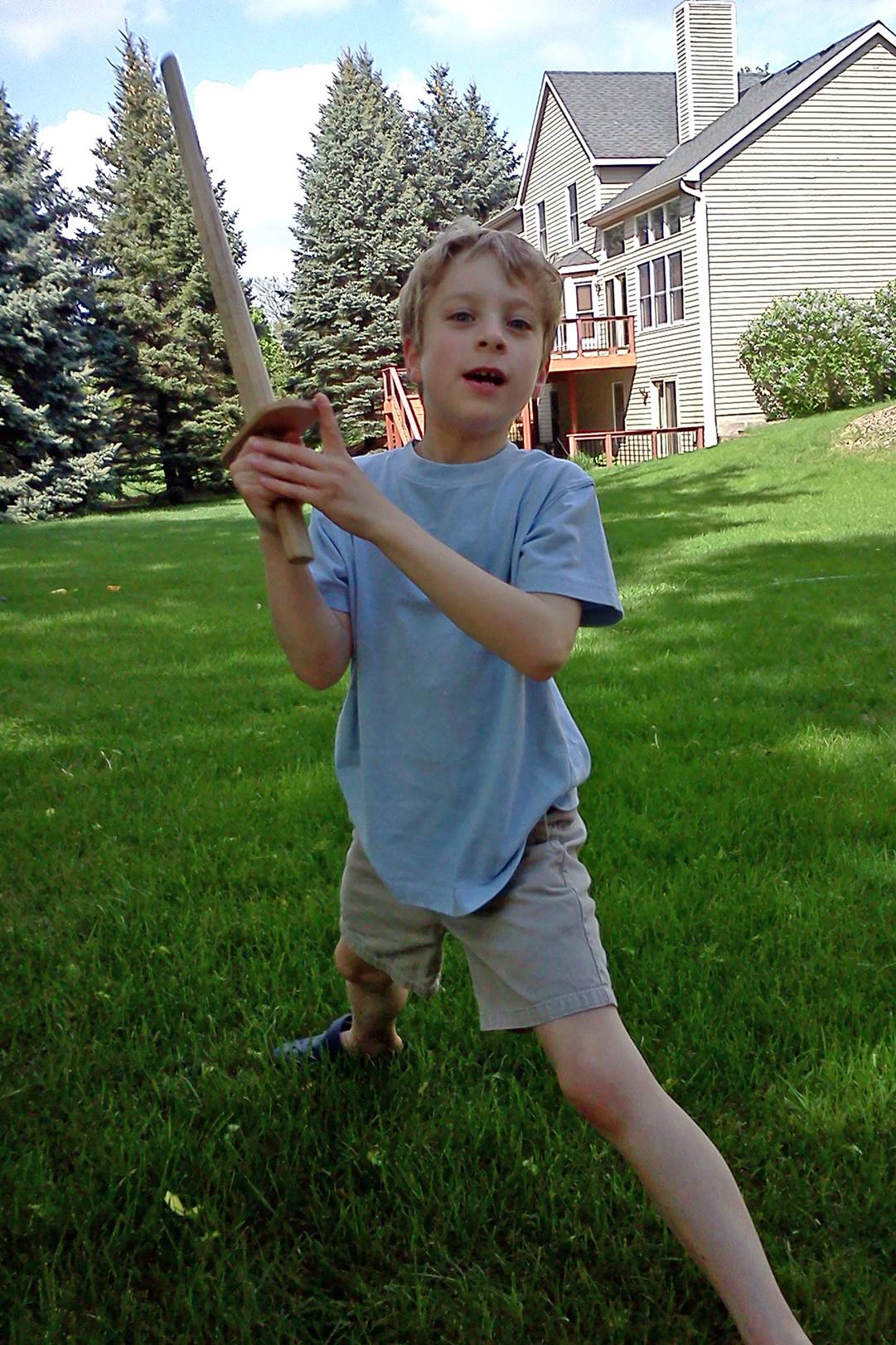 ---
Nicole H.
My woodworking story begins here at the Rockler Shop, Amy Nelson and I learned how to turn handles on the lathe under the wisdom and guidance of Dan Wenning and Jim Frey. It was easier than I had thought it would be, and we ended up with a few awesome handles for a variety of projects including bottle openers, pizza cutters, and coffee scoops. Turning is fun with friends!