Rockler Clamp-It Combo (2 Squares, Matching Clamps)
Value-pack of two Clamp-It Assembly Squares and four Clamps for perfect 90° angles, every time!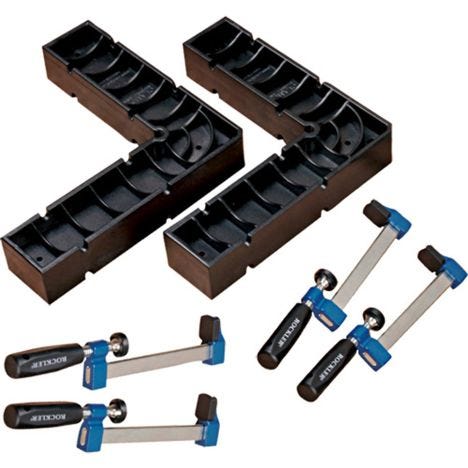 Simply put, the Clamp-It is a square you can clamp. It holds parts at a perfect 90° angle while you drive the fasteners or wait for the glue to dry. Use it on frame work or on case work, and with any joinery technique, from nails to hand cut dovetails. This package includes everything needed to easily clamp two corners at a time: two original Clamp-It® Assembly Squares and four 5'' Clamp-It® Bar Clamps. Bar Clamps are held in place on the squares with a friction fit to make operation quick, easy and one-handed.

Features:
Ideal for picture frame joinery, ready-to-assemble projects, drill press jigs and adding shelves
Made from durable rigid polycarbonate
Assembly Square measures 8'' x 8'' x 1-1/2''
5'' Clamp-It® Clamps feature fixed heads, movable tail pieces and comfortable handles
Bar has anti-slip detents to prevent slippage when tightening
Throat depth is 3/4'' to the center of the clamp pad when mounted on the assembly square
Maximum clamping thickness when used with the Clamp-It® Assembly Square is 2-1/2''
Maximum clamping thickness without assembly square is 4-1/2''
(2) Clamp-It Assembly Squares
(4) 5'' Clamp-It Clamps
More Information
Brand
Rockler
Manufacturer Part Number
69954
Weight
3.700000
Tech Spec

Clamp-It:

Material: Rigid polycarbonate
Overall Dimensions: 8'' x 8'' x 1-1/2''

Clamp-It Bar Clamp:

Throat Depth: 3/4'' (to the center of the jaw)
Clamp Maximum Opening Capacity (without Clamp-It): 4-1/2''
Clamp Maximum Opening Capacity (mounted to Clamp-It): 2-1/2''

Grip Style
Screw
Type
F-Style
Length
5"