Rockler Clamp-It Bar Clamp with Sure-Foot Conversion Kit
Clamps fit into the slots on our Clamp-It Assembly Square, or can be used on the benchtop with the included Sure-Foot stability kit.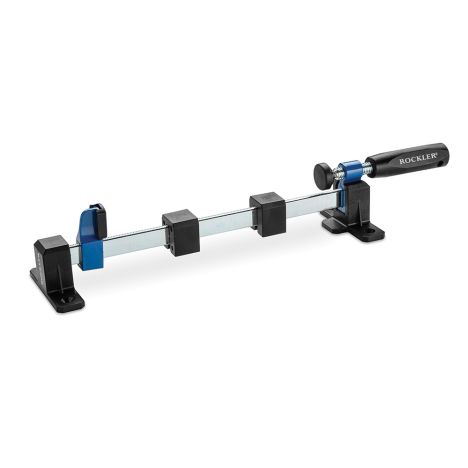 Our exclusive Clamp-It Bar Clamp is ideal for use with the Clamp-It Assembly Square (#29190, sold separately) or the Adjustable Clamp-It Assembly Tool (#33586, sold separately). The bar fits into the notches on the Assembly Square, and the 3/4'' throat depth (to the center of the jaw) centers clamping pressure on the edge of the square. In addition, the included Sure-Foot Conversion Kit provides stability so you can use the clamps upright on your benchtop or a clamping fixture. Each clamp features a fixed head with a comfortable ergonomic handle and moveable tailpiece. Great for small parts and small projects! Available in 5'', 8'' and 12'' nominal bar lengths.
Package includes the Sure-Foot® Conversion Kit for tip-proof stability!
Our Sure-Foot Conversion Kit keeps your Clamp-It Bar Clamp from falling over when stood upright on the bench—the dreaded domino effect. The attachments snap securely onto both ends of the clamp (sold separately) to provide a stable footprint that can be screwed down to your workbench or fixture if needed. In addition, the added height provides more knuckle clearance when tightening. Also included are two sliding spacer attachments, which slip onto the bar to center thinner stock between the jaws.
Important Note: Clamps are NOT compatible with the 4'' Mini Clamp-It Bar Clamp (#20201). Only compatible with full-size Clamp-It® Bar Clamps (#61003, #35335 and #36153, sold separately).
(1) Clamp-It Bar Clamp
(2) Sure-Foot mounting brackets
(2) Sliding spacers/risers
More Information
Tech Spec

Clamp Type: F-Style
Grip Type: Barrel
Throat Depth: 3/4'' (to the center of the jaw)
5'' Clamp Maximum Opening Capacity: 4-1/2''
8'' Clamp Maximum Opening Capacity: 7-1/2''
12'' Clamp Maximum Opening Capacity: 11-1/2''