Complete Set of Rockler Gardening Tool Turning Kits
Save when you buy all three of our premium gardening tools together—turn a set of custom handles to suit the green thumb in your life.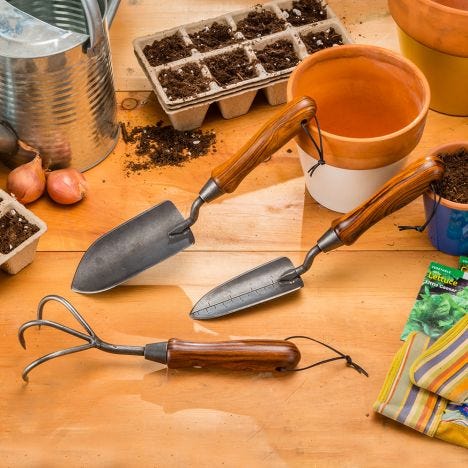 Dig into your gardening in comfort and style with our high-quality gardening hardware kits. Just turn a set of handles from the wood species of your choice for tools that fit your hands and please your eyes. The edges of the trowels are beveled for easy digging, while sturdy welds and robust ferrules ensure a long life. All three gardening tools are made from durable hardened steel with a matte stone-washed black oxide finish. We recommend 6'' long handles, but you are free to make them longer for comfort and additional leverage.
Features:
Turn the handle from the material of your choice to create a set of custom gardening tools
Trowel has a curved 2-3/4'' wide blade—ideal for general digging and planting, and rooting out difficult weeds
Transplanter has a tightly curved 2'' wide blade, with markings up to 4'' (and 10cm) for transplanting to precise depths
Hand cultivator is ideal for loosening soil, raking in compost and fertilizer and removing weeds
Made from durable hardened steel with a matte stone-washed black oxide finish
Minimum blank size: 1-1/2'' x 1-1/2'' x 6'' (a longer blank may be used if desired)
Use a 21/64'' drill bit for the shank; epoxy is recommended for securing the shank in the handle
(1) Garden Trowel Turning Kit
(1) Garden Transplanter Turning Kit
(1) Hand Cultivator Turning Kit
More Information
Brand
Rockler
Tech Spec

Material: Hardened steel
Finish: Stone-washed black oxide
Trowel Width: 2-3/4''
Trowel Length: 6''
Transplanter Width: 2''
Transplanter Length: 5-1/4''
Cultivator Width: 3-3/4''
Cultivator Length: 6-3/8''
Recommended Drill Bit for Shank: 21/64''
Minimum blank size: 1-1/2'' x 1-1/2'' x 6'' (a longer blank may be used if desired)