CoPilot Hole-Enlarging Adapter for Shark Tooth® Hole Saws
Easily enlarge an existing hole with a larger hole saw—just install in place of the pilot bit to guide the cut.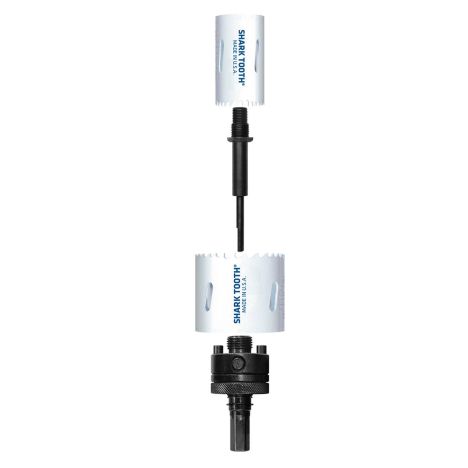 If you've used a hole saw to drill a hole and then find out it's too small, Century's patented CoPilot adapter lets you enlarge it while maintaining the same precise hole location. Just install the CoPilot in place of the standard 1/4'' pilot bit and mount the original hole saw—or one that matches the existing hole—to the CoPilot to guide the cut. You can then drill the larger hole in one easy operation while the smaller hole saw keeps it perfectly centered. Made in USA.
Features:
Lets you easily enlarge existing holes in one easy cut
Compatible with a range of threaded arbor styles, sizes and brands (sold separately)
Larger hole saw (sold separately) cuts new hole
Smaller hole saw (sold separately) becomes the pilot
Use Adapter Nut (#53258, sold separately) to convert threading from 1/2-20 to 5/8-18 if required
(1) CoPilot Hole-Enlarging Adapter for Shark Tooth® Hole Saws
More Information
Manufacturer Part Number
5320
Weight
0.200000
Tech Spec

Minor Shank Diameter: 1/4''
Threading: 1/2''-20