Custom Branding Iron - 16 Styles Available!
Put your stamp on projects with a personalized branding iron!
How to Order: Choose your preferred option below (torch, electric, or head only). Within two days after ordering you will receive instructions via email for choosing your custom design and entering your custom text.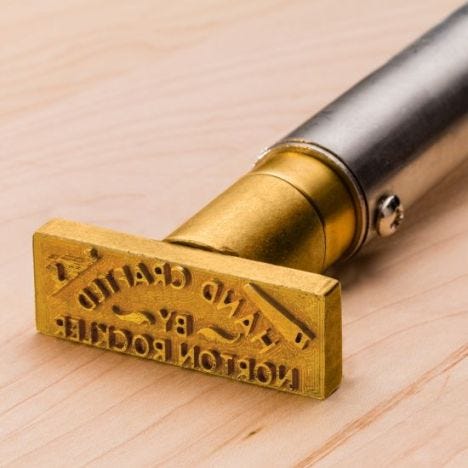 Put your brand on every woodworking project with a personalized branding iron! Choose from an electric or torch heated iron, we recommend the electric version if you're looking to brand multiple projects at a time. Each version includes a custom head with text of your choice. We also offer an interchangeable electric head if you have previously purchased an electric heated iron and would like additional heads. After you make your purchase, you will receive a voucher with further instructions for completing your order. At that time, you will be able to make your final design choice and enter your custom text.
(1) Custom Branding Iron with Your Choice of Torch Heated Iron, Electric Heated Iron, or Electric Head-Only.
More Information
Tech Spec

Max characters per line: 12-20 (spaces count as characters).
Characters are upper case only and measure about 1/8 inch high.
Your choice of characters: A-Z, 0-9.
Your choice of punctuation: ! @ # % & ( ) - + : ; " ' < > , . ? /