DVR Upgrade Package for Nova 1624 Lathes
Upgrade your lathe with DVR technology and variable speed with convenient digital controls—no more belt/pulley changes.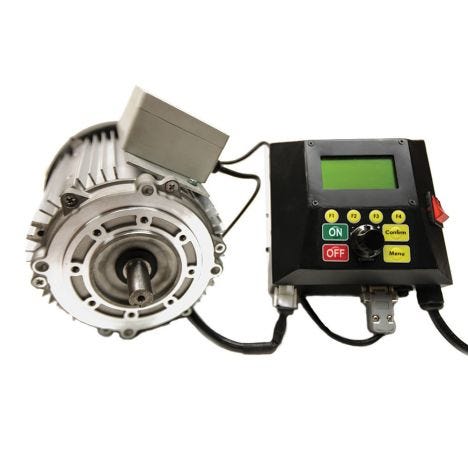 Direct Ship - Estimated Ship Date: 11/15/2021
Ships directly from the manufacturer.
Must be shipped within the 48 Contiguous United States.
Estimated Vendor Lead Time: 5-7 business days.
There is a $50.00 restocking fee for this item.
This Upgrade Package adds a powerful Digital Variable Reluctance motor and digital controls to your Nova 1624 lathe (sold separately). That means you can say goodbye to the tedious process of moving the belt from pulley to pulley. Speed changes with the DVR motor are accomplished with a simple turn of a knob, and the ''Five Favorite Speeds'' function lets you hop directly to a preset speed with the push of a button. The incredibly smooth-running motor is controlled by a sophisticated micro-processor that monitors motor output and load requirements, and automatically adjusts itself to maintain speed and power. It also provides various functions to make turning easier. It can measure the weight of your workpiece and adjust the performance accordingly, sense faults in your setup and advise, and instantly shut down power if it senses chisel dig-ins or spindle lockout. The computer also optimizes efficiency so that the motor only draws as much power as is needed, saving up to 80% in energy and emissions over conventional motors.
Features:
Easy to install using your existing pulley and flange
One belt position covers the entire variable speed range from 100 RPM to 5,500 RPM
Wide variable speed range accessible with just the push of a button or turn of a knob
Five preset speeds are customizable to fit your needs
Retains all the existing functions of your 1624 lathe, such as the 360° swiveling headstock
1.75HP high torque motor has the power to handle the full potential capacity of the 1624 lathe with ease, with or without optional outrigger or bed extension
Delivers incredible turning smoothness thanks to the DVR motor
(1) 1-3/4HP DVR Motor with Digital Readout/Control Panel
(1) Set of Fastenings
(1) Owner's Manual
More Information
Manufacturer Part Number
53101
Weight
45.000000
Tech Spec

Speed Range: 100-5500 RPM
Motor: 1.75HP DVR High Torque; 115V; 220v compatible
Phase: Single
Forward and Reverse: Yes
Compatible With: All NOVA 1624 lathes