Earlex HV6003PUS HVLP SprayPort Sprayer
From the turbine, through the hose and all the way to the gun, this HVLP system is built with rugged quality and ease-of-use in mind.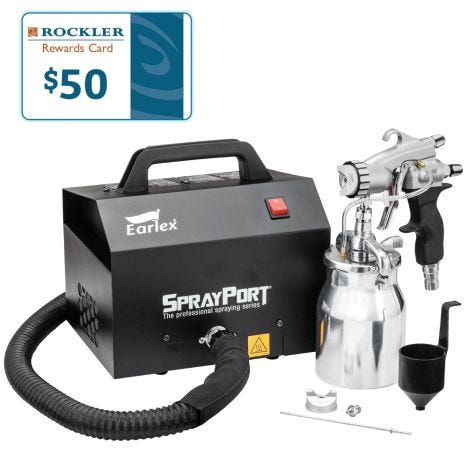 As low as $549.99 Regular Price $599.99
Free $50 Rewards Card Will Show in Cart!
Designed for experienced woodworkers, small paint or finishing shops and even professionals on the jobsite, the Earlex HV6003PUS SprayPort Sprayer lets you spray a showroom-quality finish in record time. The 6003 turbine is a step up in power and performance over the 6002 and lower models, boasting a 1200W 3-stage turbine that's capable of quickly atomizing thin and thicker coatings. Included is the comfortably streamlined Pro-8™ Gun, built from lightweight die-cast aluminum. The Pro-8 offers excellent atomization, flexible, easily accessible controls, easy breakdown for maintenance and clean up, and great durability. Last but not least, the hose, an often neglected component of HVLP sprayers, leaves nothing to be desired. It has quick-connect functionality, is extremely lightweight, flexible and so crush-resistant that you can stand on it.
Features:
Compact, portable turbine cabinet with carrying handle.
Pull-out hanger bracket lets you conveniently hang your gun during a pause from spraying.
360° rotating air cap at the front of the gun allows complete flexibility in spray angle from horizontal to vertical and everything in between.
Pattern control dial on the Pro-8™ spray gun is conveniently placed at the rear, letting you easily change the spray pattern without needing to adjust the air cap.
Pattern control can be set to round for intricate detail work or an elliptical fan shape, which widens as you adjust the pattern adjuster.
Capability to spray thin to thick bodied materials un-thinned.
2-stage, 2-finger trigger maximizes coating control, ideal for feathering effects.
Easy clean up, since only the spray gun and cup contact the coating material.
Dual reticulated open cell air filters provide improved airflow and longer turbine life.
25' HyperFlex™ hose is lightweight, crush-resistant and extremely flexible.
(1) Earlex HV6003PUS HVLP SprayPort Sprayer
(1) Pro-8 Spray Gun
(1) 25' HyperFlex™ Hose
(1) 1.3mm Nozzle Set
With the Rockler Protection Plan, you'll get accidental damage coverage immediately upon purchase of your tool. Plus, we will extend the manufacturer's warranty for your choice of an additional 1 or 2 years. We'll take care of all parts and labor for any repairs, with no deductibles and no hassles. If your tool can not be repaired, we'll gladly replace it. Available in the US only. Click here to learn more.
Standard Manufacturer's Warranty: 24 months
More Information
Brand
Earlex
Manufacturer Part Number
HV6003PUS
Tech Spec

Gun Type: Pressure Feed (Bottom Feed)
Needle, Fluid Tip and Air Cap Set: 1.3mm
Cup Volume: 1L
Turbine: 3-Stage
Power: 1200W
Air Filters: Dual/Removable
Pressure Rating/PSI (bar): 5.5 (0.38 bar)
Weight: 25 lbs.
Hose Length: 25'

Style
HVLP