F2 Filters for M2 Mesh Masks
Filters particles down to 0.1 microns in size, and offers 40% better breathability than the standard F1 filter.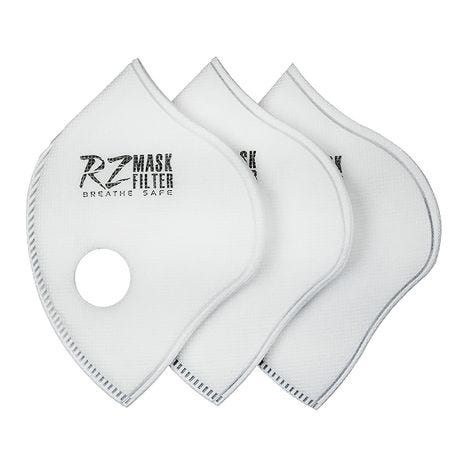 For woodworkers, the basic paper dust masks with rubber band straps have an annoying drawback: every time you exhale, hot, moist air is forced out of the gaps around the bridge of your nose, and your safety glasses quickly become fogged. RZ M2 Mesh Masks circumvent that problem with dual exhalation valves that direct air down and outward, away from your safety glasses. This package includes the standard F1 filters with active carbon, as well as a 3-pack of HEPA filters, both of which screen out particles down to 0.1 micron. The mesh material is lightweight, comfortable against the skin, and allows cooling air to circulate in areas that don't require filtration, such as the back of your neck. As we all know, a mask only benefits you if you wear it, and with no rubber bands to tangle in your hair or chafe against your neck, you won't hesitate to wear this one.
Features:
Mesh material is lightweight, breathable and durable
Replaceable filters and washable mesh maximize the life of the mask
Dual one-way discharge valves reduce condensation on safety goggles
Adjustable nose clip also helps to prevent fogging
Adjustable velcro strap provides a comfortable fit—not too tight and not too loose
Package includes a 3-Pack of HEPA Filters, offering 40% better breathability than the standard F1 filter!
With their dual layers of particulate filtration, F2 HEPA filters are capable of trapping particles down to 0.1 microns in size. F2 filters do not feature active carbon, but they offer 40% better breathability than the standard F1 filters.
What Size Mask Should I Buy?
Choosing the correct mask size
To determine the correct mask size for your facial structure, we recommend taking exact measurements using the method described below.
1. Measure from the bridge of your nose to just under your chin. *See guide below. (It may be helpful to have a friend assist you) 2. Use the measurements you have taken and match to the best fit from the below: NOTE: If you are on the bubble based on measurements - refer to weight.

Extra Large (XL) - 4.5" - 5.5" | 215lbs +
Large (L) - 4" - 4.5" | 125lbs - 215lbs
Medium (M) - 3.5" - 4" | Up to 125lbs
Filters are designed to match your chosen mask size, i.e. Extra Large (XL) mask houses an XL filter.
Below is a general guide based on body weight (note that facial measurements are more accurate for ensuring correct fit).
Extra Large - 215 lbs +
Large - 125 lbs - 215 lbs
Medium - Up to 125 lbs
(3) F2 Filters for M2 Mesh Masks
More Information
Weight
1.000000
Tech Spec

Particulate Filtration: 0.1 Micron
Piece Count: 3

Size
Small, Large, X-Large
Type
Woodworking
Product
Filters