GVS Elipse P100 Organic Vapor Half Mask Respirator
Offers enhanced performance with gases and organic vapors, in addition to dust and mists—compact, lightweight, flexible design!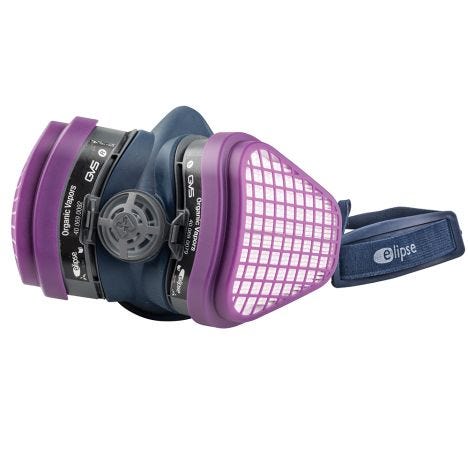 GVS Elipse P100 Organic Vapor Half Masks feature activated carbon filters that protect against a range of gases, vapors, dust and mists. Suitable for high vapor applications such as painting, finishing, epoxy and more. The masks are made from a flexible material that adapts perfectly to the contours of your face. Each mask includes two low-profile filters, which permit a wide field of view, and won't interfere with other ear and eye protection, such as ear muffs and safety glasses. The filters feature low-breathing resistance, increased performance with gases and excellent durability. Replacement filters are readily available (Rockler part #61669), and the cartridge design makes them easily interchangeable.
Features:
Approved by NIOSH (National Institute for Occupational Safety and Health; approval number P100/OV TC-84A-8062)
Activated carbon filters have a pore structure optimized for maximum absorption efficiency and minimal breathing resistance
Materials used for masks and filters are hypo-allergenic, odorless, FDA compatible and latex- and silicone-free
Low profile filters provide a full range of vision without interfering with safety glasses and ear muffs
Large central valve allows for low breathing resistance and less moisture build-up inside the mask
Improved easy-to-adjust headband clip for enhanced retention
All masks are supplied with an aluminum zip foilbag for storage to maximize the life expectancy of the activated carbon
(1) GVS Elipse P100 Organic Vapor Half Mask Respirator
(2) Activated-carbon filters
(1) Zip foil storage bag