Harvey Turbo T40 14'' x 24'' Benchtop Lathe
Ideal for those who want the premium features of a larger lathe but in a smaller package for the home shop.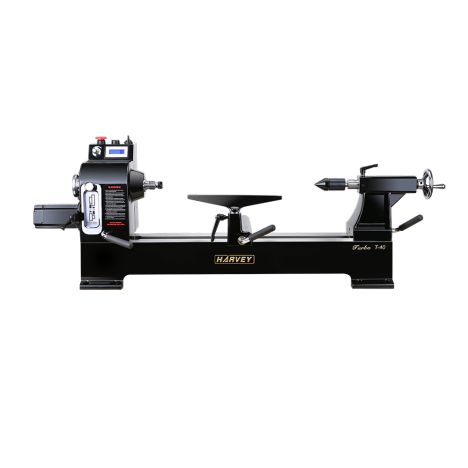 Additional Shipping and Handling Charge: $99
Ships directly from the manufacturer.
Estimated Vendor Lead Time: 14 days.

The T40 Turbo Lathe from Harvey Woodworking is powered by an industrial servo motor much like those used in state-of-the-art CNC machines. This high-performance motor provides an ultra-fast 2 millisecond response time for torque demand, 100x faster than most lathes. In addition, the spindle comes to a quick stop after power down. The lathe features a digital RPM readout and is reversible. The headstock swivels 90° for turning of large diameter work. Fit and finish are excellent: high-grade cast iron with a baked-on finish and solid steel locking handles with foam grips at every major adjustment point. With a 14'' swing over the bed and 24'' between centers, it makes an excellent mid-sized lathe with the premium features of much larger lathes.
Features:
Ultra-fast 2 millisecond response time for torque demand
Digital RPM readout
Two speed ranges: 50 to 2,800 or 75 to 4,300 RPM
Quick spindle stop
Forward and reverse turning
178 pounds of premium-grade cast iron and steel
Headstock spindle is supported by 3 oversized ball bearings
Specially hardened alloy tool rest edge.
Solid steel, foam-covered locking handles for all major locking points (headstock, tailstock, tool rest support)
Forged and ground spindles
90° headstock swivel, allowing for large diameter pieces
24-position spindle indexing system with tool-free locking
Baked finish for clean look and excellent durability
Two speed ranges: 50 to 2,800 or 75 to 4,300 RPM
(1) Harvey Turbo T40 14'' x 24'' Benchtop Lathe

More Information
Manufacturer Part Number
20400
Weight
242.000000
Tech Spec

Maximum Swing over Bed: 14''
Maximum Swing over Banjo: 10''
Distance Between Centers: 24''
Spindle Motor Drive: Industrial Servo Motor system, 1HP/220V/50Hz(60HZ)/1-Phase
Spindle Speed (variable): 50-2800 RPM?low range), 75-4300 RPM?high range?
Tool Rest Length: 12''
Spindle Thread: 1-1/4''x 8 TPI UNS
Spindle Through Hole Dia.: 1/2''
Spindle Taper: MT#2
Tailstock Travel: 4''
Tailstock Quill Through Hole Dia.: 3/8''
Tailstock Quill Outer Dia.: 1-1/4''
Tailstock Quill Taper: MT#2
Spindle Indexing: 24 positions