iVac Dust Collector Switch Box
Automatically turns your shop vacuum or dust collector on and off when you turn your power tool on and off.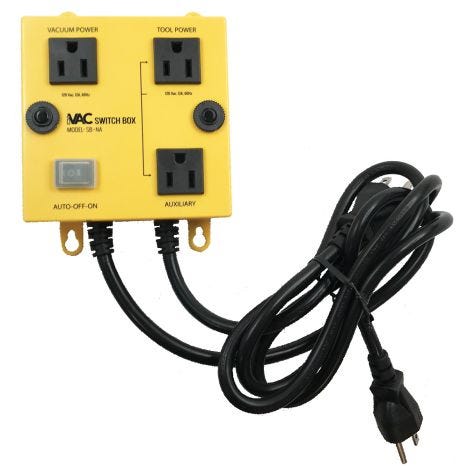 Simply turn on your power tool and the iVAC Switch Box will automatically turn on your shop vacuum or dust collector. Turn off the power tool and the vacuum will turn off after a short delay to clear debris from the hose and work space. No more walking back and forth to the dust extraction system (or deciding not to because it takes too much time). The Switch Box is intended for use with a power tool, such as a table saw, router or sander, along with a shop vacuum up to 5 peak HP, or a dust collector up to 1 HP. In the Auto mode, when the power tool is activated, power is supplied to the vacuum system after a short delay. When the power tool is turned off, the power to the vacuum system will be maintained for approximately six seconds, in order to clear any residual dust.
Features:
Automatically turns your shop vacuum or dust collector on or off
Plugs into any wall outlet and provides outlets for your vacuum and up to two power tools
Three-position mode switch: Auto/Off/On
Vacuum turns on after a short delay to avoid circuit breakers being tripped
Turn-off delay ensures that your work area and your dust hose is cleared after the tool has powered down
Dual inputs permit operation from two separately protected AC circuits, when the combined power from the tool and the vacuum exceeds 15 amps
Both power cords are individually protected with two 15-amp circuit breakers
Easy-to-use, easy to install
Note: Be sure to check the circuit requirements of your shop vacuum or dust collector before ordering. The information you need may be found in your shop vacuum/dust collector user guide.
(1) iVac Dust Collector Switch Box
More Information
Manufacturer Part Number
SB-NA
Weight
1.700000
Tech Spec

Brand: iVac
Manufacturer Part Number: SB-NA
Compatible Vacuum Systems: Designed for 115V shop vacuums up to 5.0 Peak HP and dust collectors up to 1.0 HP
Circuit: 15A
Turn On Delay: 0.5 to 2.0 seconds
Turn Off Delay: ~6.0 seconds