Jet JPJ-12BHH 3HP 12'' Planer/ Jointer with Helical Head
Both a jointer and planer in the footprint of one, with easy changeover between the two—helical knives provide clean cuts with virtually zero tear-out!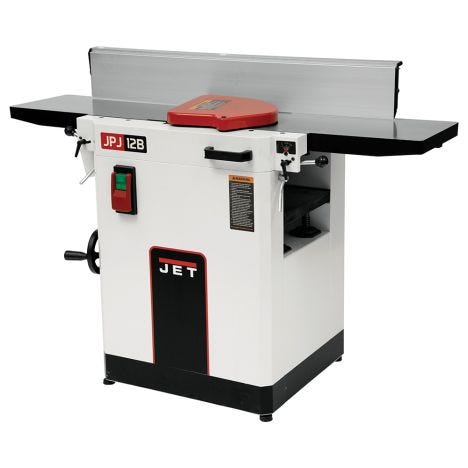 Additional Shipping and Handling Charge: $350
If you have limited space in your shop, you might feel that you have to choose between a jointer or a planer. But the Jet JPJ-12BHH combination jointer and planer packs both into the footprint of one! Not only that, you get a helical cutterhead with 42 replaceable, rotatable knives with clean cuts and minimal tear-out. Changeover between jointing and planing functions is quick and easy, with no need to remove the fence. The machine features a heavy-duty cast iron table, and the fence is extra-tall for perfectly square jointed edges. The built-in dust chute functions during both planing and jointing operations, and the powerful 3-horsepower motor can handle the toughest lumber. A fully welded steel base cabinet houses the motor and the planer table mechanism, while providing solid mounting for the associated controls, and support for the jointer table and fence assemblies.
Features:
Extremely quick changeover between jointing and planing operations—fence does not need to be removed
Helical head with 42 four-sided insert cutters for exceptionally clean cuts and minimal tear-out
Heavy-duty cast iron tables with a ground finish to ensure accuracy and flatness
Rugged one-piece steel enclosed stand includes mounting tabs for increased stability
Large handwheel for fast, accurate adjustments of planer table
Parallelogram design keeps the table close to the cutterhead for improved finish and allows for precise depth-of-cut adjustments
Three high-speed steel knives in cutterhead provide rapid cutting and a superior finish
(1) Jet JPJ-12BHH Planer/Jointer
(2) Push Blocks
(1) 6mm Hex Wrench
(2) Star Point Screwdrivers
(10) Knife Inserts
(10) Knife Insert Screws
(1) Owners manual
(1) Warranty Card
More Information
Brand
Jet
Manufacturer Part Number
715155
Weight
607.000000
Tech Spec

Brand: Jet
Manufacturer Part Number: 715155
Cuts Per Minute: 15,900
Cutterhead Diameter (In.): 2-3/4
Cutterhead Speed (RPM): 5300
Dust Collection Minimum CFM Required (CFM): 550
Dust Port Outside Diameter (In.): 4
Feed Rate - Planing (FPM): 2 speed 16 to 26 FPM
Fence Positive Stops (Deg.): 90 and 45 R
Fence Size (L x H) (In.): 43-1/4 x 5-7/8
Fence Tilt (Deg.): 90 to 45 R
Jointer Cutting Capacity (W x D) (In.): 12 x 1/8
Jointer Table Size (L x W) (In.): 55 x 12-1/32
Maximum Depth of Cut - Planing (In.): 5/32
Maximum Planing Thickness (In.): 8-3/4
Maximum Planing Width (In.): 12
Minimum Planing Length (In.): 10
Motor Power (HP): 3
Motor Voltage (V.): 230
Net Weight (Lbs.): 453
Number of Knives: 42 four-sided insert cutters
Overall Dimensions (L x W x H) (In.): 55-7/16 x 28-15/16 x 40
Overall Height (In.): 40
Planer Table Size (L x W) (In.): 25 X 12-1/32
Prewired Voltage (V.): 230
Recommended Circuit Size (Amps.): 30
Helical Knife Size (L x W x T) (In.): 0.29 x 0.59 x 0.10
Type of Cutterhead: Helical head
Full Load Amps: 15
Running Amps: 4.5
This item will ship directly from the manufacturer.
Must be shipped within the 48 contiguous United States.
Please allow up to 7 business days for your shipment to be prepared.
Additional shipping charges may apply and will be noted below the price.
Items shipped by truck are delivered to the curbside only.
25% restocking fee on all returned merchandise.
Please call customer service before returning product.