K Body REVOlution Parallel Clamping Kit with KBX20 Extenders
Includes (2) 24'' clamps, (2) 50'' clamps and (2) clamp extenders, which allow you to join clamps for additional capacity! While Supplies Last!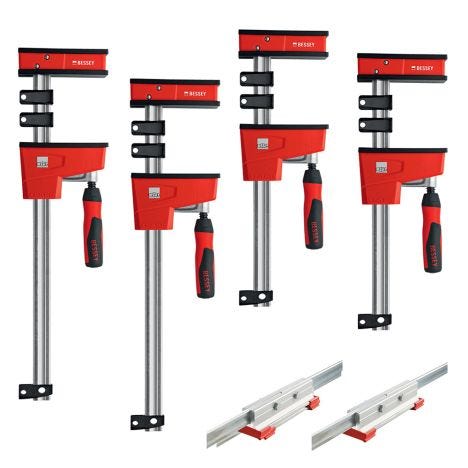 Get the most out of your clamps with this versatile clamp pack from Bessey. It bundles two 24'' clamps with two 50'' clamps and two connectors that let you combine clamps for extended capacity. Bessey's K Body REVOlution parallel clamps boast more clamping force than their predecessors—up to 1,700 pounds per clamp. In addition, you can apply force with a 6mm hex key in the socket at the end of the handle—ideal for users with wrist issues. Dual anti-slip protection prevents unexpected jaw release, while the extra-large clamping surfaces stay at a right angle to the rail, making them ideal for keeping drawers and case goods square, as well as for standard panel glueups. All four edges of the clamp face can be used for clamping: standard full jaw, laying on either side, or upside down clamping with the heel—ideal when you don't have enough space on the workpiece, or beneath it, to use the whole clamp face.
Features:
Sturdy jaw construction with metal-reinforced plastic housing
End clip is easily removable without tools so you can convert the clamp to a spreader
Adjustable, removable plastic risers lift your work off of the bar to eliminate marring and glue smearing
No-mar clamp faces are glue- and solvent-resistant
Clamp faces are removable to fit optional accessories like the Pivoting Jaw Faces (#51431, sold separately)
Package includes a pair of KBX20 Clamp Extenders for extra-long clamping capacity!
The KBX20 lets you splice any 2 KRE, KR, K, KREV or KRV clamps for greatly increased capacity. The aluminum extrusion will not pull out, sits flat on the table, and comes with mounting fasteners that work smoothly with the pre-drilled holes in the clamp's rail.
(2) 24'' Bessey K-Body REVOlution Parallel Bar Clamps
(2) 50'' Bessey K-Body REVOlution Parallel Bar Clamps
(2) KBX20 Clamp Extenders
More Information
Brand
Bessey
Manufacturer Part Number
KREX2450
Weight
41.600000
Tech Spec

Clamp Opening Capacity: 24'', 50'' and more with extenders
Throat Depth: 3-3/4''
Clamping Force: 1,700 pounds