Kreg Adaptive Cutting System Master Kit
A complete system for ripping, crosscutting, mitering and beveling both panel stock and solid wood—all in one location, with one saw.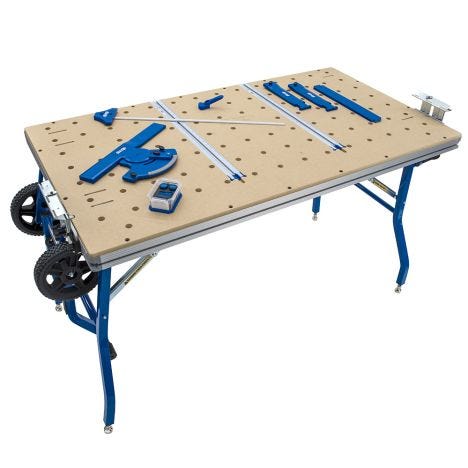 Kreg's ACS (Adaptive Cutting System) Master Kit is your one-stop shop for crosscutting, ripping, mitering and beveling both sheet stock and solid wood. Versatile, portable and precise, it can make an ideal table saw substitute for small shops. The system marries a high-performance track saw and a matching 62'' track with a sturdy, supportive table that can be folded up and rolled away when not in use. The Project Table is pre-drilled with dog holes that accept the included Versa-Stops, and features integrated measuring systems with included material stops that precisely position your materials for smooth, straight, accurate cuts, every time.
Features:
Precisely dimension plywood sheet goods and solid wood—all in one location with one tool
Easily move the system to wherever you need it, in the garage, in the driveway or to the jobsite
Plunge Saw and joinable 62'' Guide Tracks provide straight, smooth cuts
Replaceable splinter guards in the base of the plunge saw help minimize chip-out and splintering
50'' cutting capacity when a single Guide Track is used—expandable to 112'' by combining two tracks with the optional Connector Kit
Project Table enhances cutting capabilities by supporting and precisely positioning materials for repeatable cuts
Capable of ripping, crosscutting, mitering and beveling with one system
Portable, with a compact, vertical storage footprint—table folds up and rolls away on the integral wheels
Integrated safety features include a fully-shrouded blade, a retractable riving knife and anti-kickback protection
Kreg ACS3000 Adaptive Cutting System Master Kit
(1) Kreg ACS-SAW Plunge Saw
(1) Kreg ACS-TTOP Project Table Top
(1) Kreg ACS-TBASE Project Table Base
(1) Kreg ACS-430 62'' Guide Track with Cord Manager
(1) 48-tooth carbide-tipped blade
(1) Dust collection bag
(2) Track Hinges and Mounting Plates
(4) Versa-Stops
(2) Material Stops
(1) Joining Bar to connect Material Stops
(1) Protractor Miter Guide
(1) 48'' Extension Stop
(2) Primary Rulers
(2) Secondary Rulers
(1) Owner's Manual
More Information
Tech Spec

Maximum Guided Cut Length: 50''
Track Length: 62''
Motor: 12A 120V variable speed motor with load compensation and electronic brake
Max Cut Depth at 90°: 2-1/8''
Max Cut Depth at 45°: 1-1/2''
Bevel Capacity: -1° to 47°