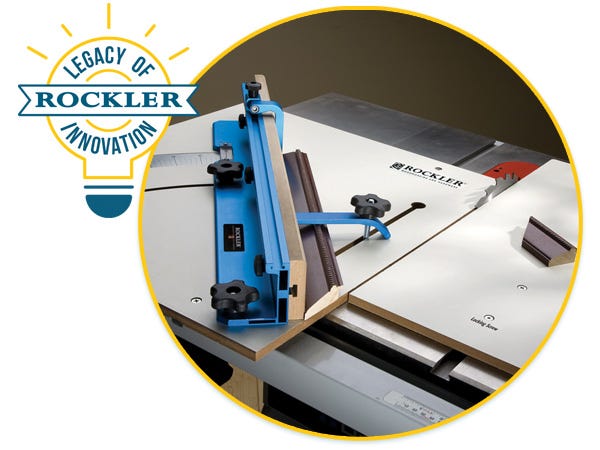 The table saw is the centerpiece of many woodworking shops. This tool excels at ripping boards and cutting sheet stock to size. It is also very versatile when paired with the right jig. Rockler has designed several innovative table saw jigs that make your table saw safer and more useful. These are our favorite table saw jigs for woodworkers.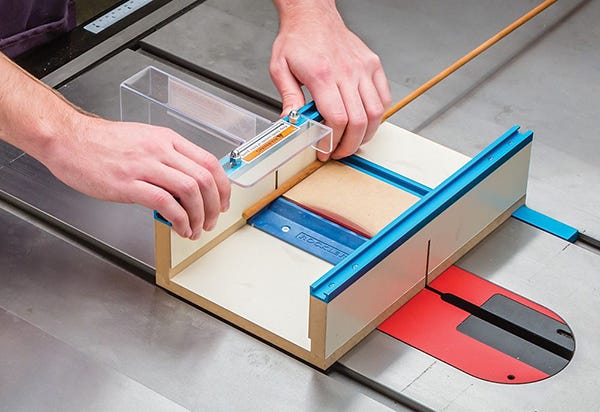 The Rockler Small Parts Table Saw Sled lets you use your table saw to cut small parts to length. This table saw sled is great for cutting dowels, tenon stock and small moldings at a precise 90° angle, with little to no tear-out. The table saw sled features zero-clearance support, which reduces the chance of small pieces getting stuck between the table saw blade and throat plate, or falling through entirely. A small plastic ramp on one side of the kerf carries the drop-off piece away from the blade. This table saw sled includes a miter track stop that limits the forward travel of the sled.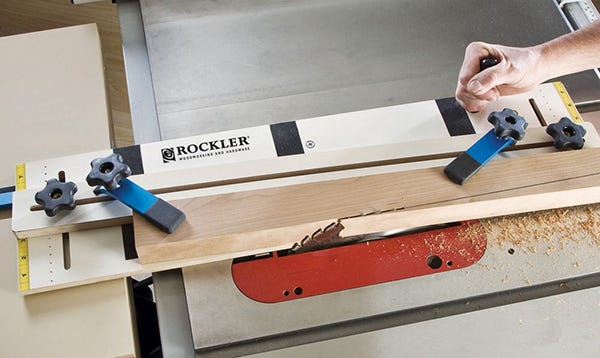 With a simple indexed angle setting system, heavy duty hold-down clamps and a smooth sliding design, the Rockler Straight Line and Taper Jig makes tapered cuts fast, easy and more precise. Perfect for chair legs, table legs and more. This table saw taper jig fits snug in any standard 3/8" x 3/4" table saw miter slot and features a large, ergonomic handle for smooth push-action performance throughout the cut. Plus, with the table saw miter bar removed it doubles as a stable straight line ripping jig. This woodworking taper jig works with table saws on which the left edge of the right miter slot is 3-3/4" to 4-3/8" from the blade or 5" to 5-5/8" from the blade.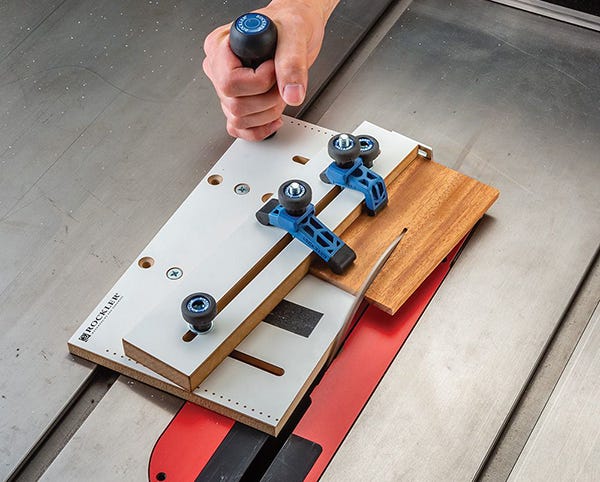 Rockler's Small Parts Table Saw Taper Jig is a smaller version of the larger taper jig. It lets you cut precise tapers on small parts, lending lightness to blocky legs on chairs, sofas and occasional tables. It's also great for whipping out a handful of shims or opposing wedges for workholding applications. Its compact form factor is easy to store, easy to carry and easy to operate, especially on smaller machinery. The miter bar can be located in three spots to fit a wide range of saws, and features nylon set screws to remove the slop. Our comfortable Easy-to-Grip handle makes for comfortable, smooth-sliding operation, while two specially-designed compact hold-down clamps ensure your work won't slip, and allow cutting of narrow parts.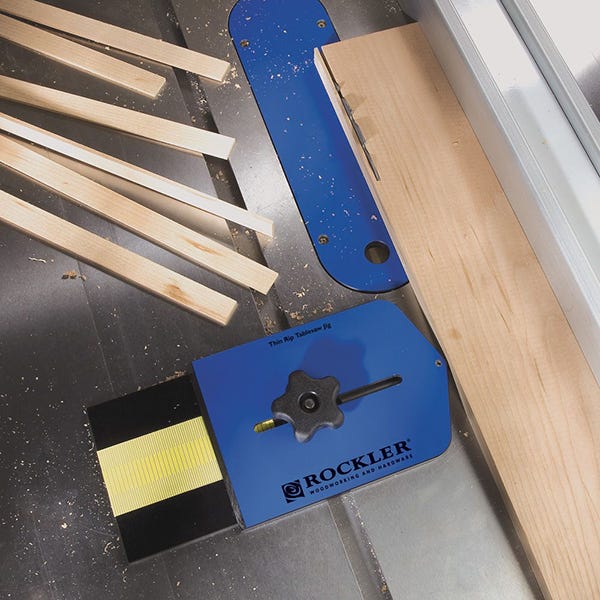 The Rockler Thin Rip Table Saw Jig allows you to rip thin strips on the left side of the blade, eliminating the danger of pushing narrow strips between the saw and fence. Since the strip is not trapped between the blade and fence, there is also less risk of binding and kickback. It's simple to use; a single knob locks the jig into the miter track and locks your setting at the same time. Ball bearing guide keeps your workpiece firmly against the fence for perfect repeatability. Use the graduated scale to fine-tune for extremely thin strips.
The Rockler 45 Degree Miter Sled makes it easy to cut perfect 45 degree miters - no adjustments! Simply cut one piece on the leading face, one on the trailing face, and voila! Since both pieces reference off a perfect 90 degree angle, the miters will fit perfectly.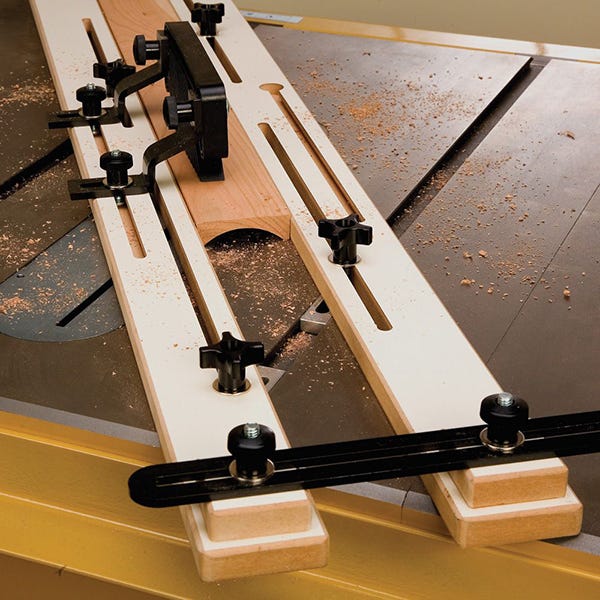 The Rockler Cove Cutting Table Saw Jig includes everything you need for safe, easy coving in one easy-to-use package. Accepts stock up to 7" wide and 1-1/2" thick, enabling you to cut huge crown moldings that would cost a fortune from the lumberyard. Try angling the blade for a truly unique shape. Ingenious clamping system secures the fences using the 3/4" miter slots on the saw table. Large, easy grip knobs make for quick, tool-free setups. Included featherboard kit holds stock firmly to the table for added safety, precision and repeatability.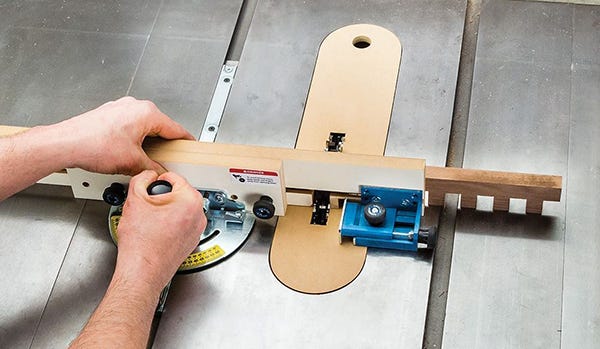 When you need to cut multiple lap joints with uniform spacing, reach for the Rockler Table Saw Cross Lap Jig. Screw it to your miter gauge and use it with your table saw and a dado stack to cut the half-lap joints for anything with a wooden grid: lattice, wine racks, grilles/mullions for glass doors, and torsion boxes for your workbenches and table tops. The jig's indexing key is width-adjustable for stock ranging from 1/8'' to 3/4'' wide. The distance from the indexing key to the blade determines the spacing of your grid, and is easily adjustable with the ergonomic knobs. Simply make your cut, push the key into the kerf you just made, then make the next cut.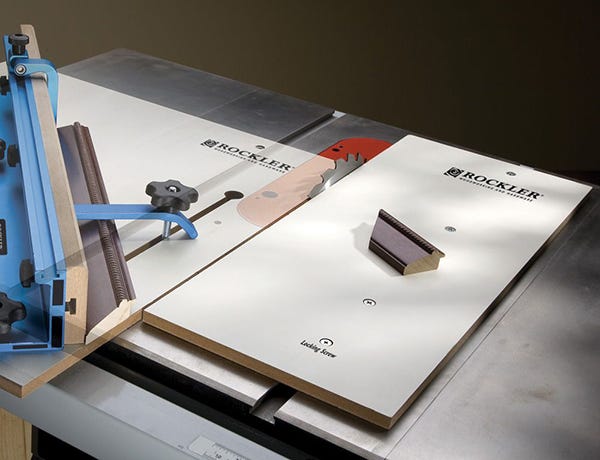 Rockler's Table Saw Crosscut Sled features a large protractor scale that lets you precisely tune your angles for air-tight miters and crosscuts. Easy-to-read 1/2° graduations and a hair-line indicator ensure error-free setups, while a heavy-duty aluminum fence, adjustable MDF fence face, and smooth-sliding components delivers versatile and precise operation. Adding the CrossCut Sled Drop-Off Platform will provide true zero-clearance support on both sides of the blade for safe, splinter-free cuts. By keeping drop-off pieces from sagging at the end of the cut, it prevents them from splitting off unpredictably, and from getting jammed in the throat plate. Easy to use - just slide it into the miter track and lock in place with a single screw. Measures 10"W x 23-3/4"L x 1/2"Thick. MDF with melamine coating.