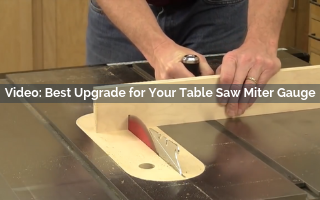 This simple upgrade to your table saw miter gauge can immediately improve your cut quality, accuracy and safety. The fence on most miter saws is too small. Add a longer fence to your miter saw and you'll get better results on your next project.
Best Upgrade for Your Table Saw Miter Gauge - Video Transcript
Speaker 1: When you're making crosscuts with your table saw, I bet you use your saw's miter gauge, and I do too, but these standard miter gauges come up a little bit short, and I mean that literally. This fence is just too short to work as well as it could, but there's a simple way to step up the performance of your miter gauge, and costs next to nothing. Just add a longer fence to it. All you need is a piece of scrap material that's about two to four inches wide and long enough to extend past the blade. You can use a piece of scrap plywood like I'm using here or solid wood, it doesn't matter, just make sure it's flat in all dimensions and at the bottom it's square. Many miter gauges have holes in them already for attaching a longer fence. Install it with a couple of pen head wood or cheap metal screws.
As I suggested, when you attach the fence, have it extend past the blade, that way you could cut past into the fence, but still leave it overly long. Here are the payoffs. First, your new fence adds support when you're cutting long workpieces so they can pivot. You can spread your hand out for better control. Second, the fence backs up your workpiece when the piece come out the back side, it will eliminate tear out. Third, and this one is my favorite, this curve slot in the fence shows you exactly where the blade is and that's a huge leg up on accuracy.
All you need to do is line up your lay outline on your workpiece with that curve slot and your crosscut will be right on the mark. When you need to cut a bunch of parts to the same length, just clamp a stock block to your fence, that way the length of all of these parts will match perfectly, a long fence on your miter gauge like this is so beneficial that I almost never use mine without one. It'll give you a leg up on accuracy, safety, and cutting quality, and all you need is a piece of scrap.