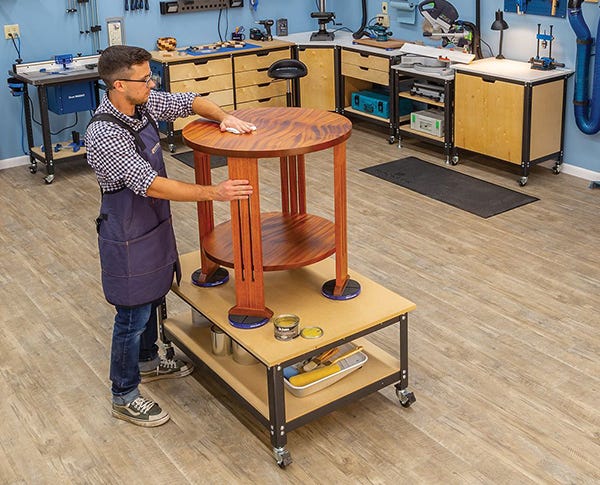 Make the perfect DIY workbench, cabinet, work table or shop cart for your workshop. The new Rock-Steady workshop stands feature strong heavy-gauge steel construction and pre-drilled holes for easy assembly and accessorizing. These are the best steel cabinet frames in the business.
Mix and match different size shop stand legs and stretchers to suit your needs. Choose from one of our complete kits or select individual shop stand components and accessories. Our Rock-Steady Shop Stand Configurator makes it easy to design and shop for the perfect DIY cabinet frame.
Scroll Down for Free Tool Stand Project Plans
Video: Learn More About Designing the Perfect Shop Stand
Rockler Rock-Steady Shop Stand Kits and Components
All Rockler Rock-Steady Shop Stands feature four stretchers with a generous top lip to support both a top and a shelf, and the legs are studded with holes spaced 32mm on center. These accept our optional Drawer/Shelf Brackets and Hinge Brackets (both sold separately), which let you mount shelves, drawer slides and doors with Euro hinges. They also accept our optional Steel Pegboard Panels . The top stretchers can be mounted lower if you wish to add a vise or a top drawer to the stand.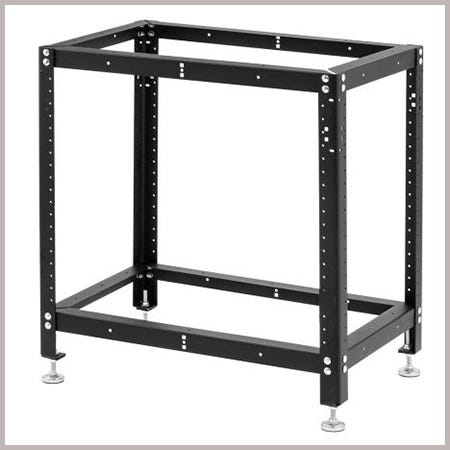 The 32''W x 20''D x 32''H Rock-Steady Shop Stand kit is the perfect size for any of the Rockler 28'' x 40'' tops, leaving a 4'' overhang on all sides for easy clamping. Use it as a spacious assembly table, a CNC stand, or pair it with our T-Track table for a versatile clamping workbench.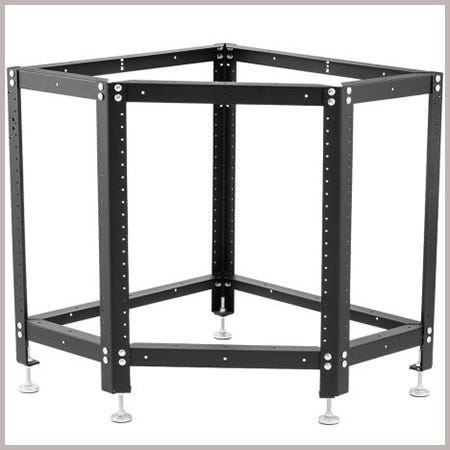 The Rock-Steady Corner Shop Stand kit turns any corner of your shop into an exceptionally spacious work station with loads of storage underneath. Plus, the deep corner provides a convenient parking spot for benchtop tools. Available in two depths: 16'' and 20''. These depths correspond with our other Rock-Steady stands so you can add left and right wings to your corner. The interior is also ideal for a lazy Susan, which helps make the most of the cavernous storage space inside. A 28'' diameter full-round lazy Susan will fit both corner stands. An even larger lazy Susan (up to 32'' in diameter) can be made to fit the 20'' deep Corner Stand, but the rotating tray may project out the back of the stand slightly.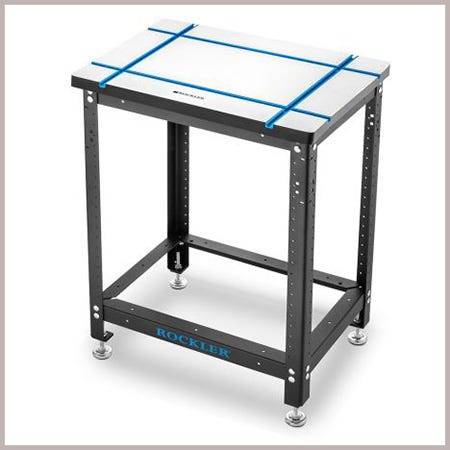 The 20"W x 16"D x 32"H Rock-Steady Shop Stand kit is the right size for the Small T-Track Tabletop (#57680, sold separately). It leaves a generous overhang around the edge for clamping, while still providing plenty of stability. The size is also a great fit for smaller power tools like a CNC Piranha, bench grinder or sharpening station.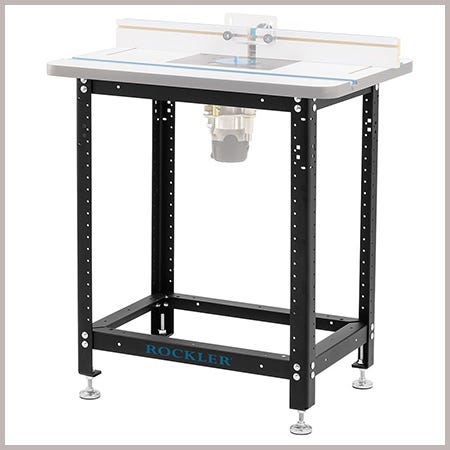 The Rock-Steady Shop Stand kit is the perfect size for our standard 32"W x 24"D Rockler Router Table Tops, leaving a 3" overhang on all sides. It also makes a great general-purpose utility stand or machine stand.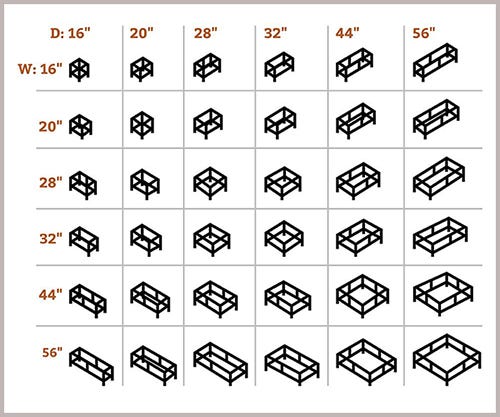 Mix-and-match shop stand components to build a shop stand in any size you need. Our Rock-Steady Shop Stand Configurator makes it easy to select the correct size components for your custom-size workshop stand.
SHOP STAND PROJECT PLANS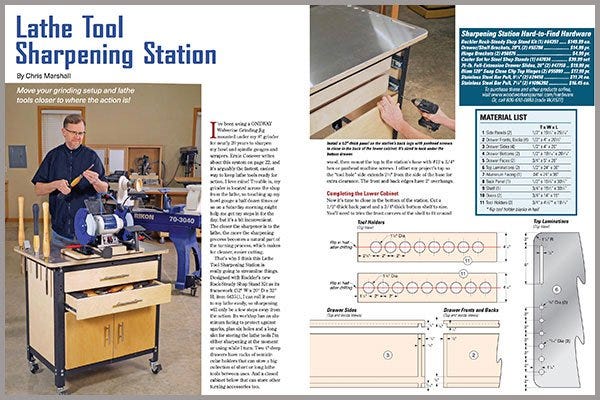 Video: Take a Closer Look at this Sharpening Station