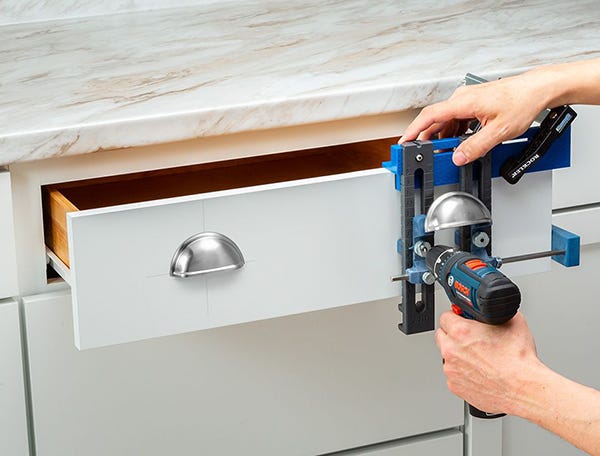 Rockler Jig-It Knob and Pull Pro Drilling Guide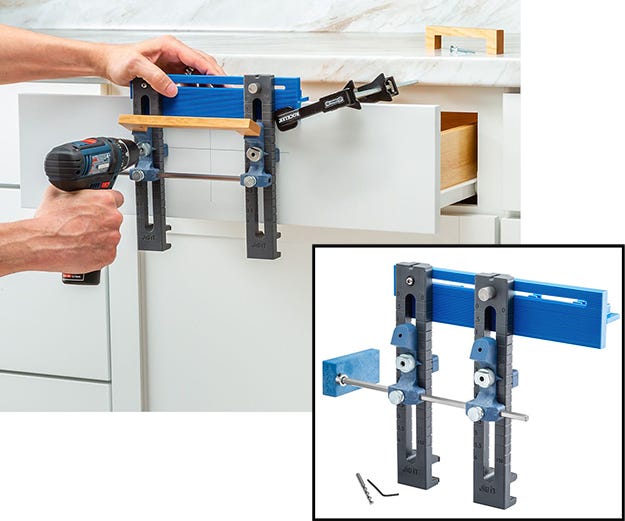 Fast setup and flawless repeatability make our Rockler Jig-It Knob and Pull Pro Drilling Guide is the top pick for installing hardware on anything from kitchen cabinets to fine furniture. Since you use the actual pull to set the hole spacing, measurement errors are eliminated. Simply attach the pull to the two drilling guides, tighten the knobs, and drill. The guides are fully left and right, as well as up and down, and an extendable stop can be set for repeatable drilling. The stop can extend from either the left side or right side of the jig, making it useful for wide drawers with two pulls. Thanks to interlocking sawtooth racks, you can be confident that your settings won't slip, and that even if you switch settings, you can go back to your previous settings with perfect accuracy.

When you are installing two handles on a drawer front, install one handle and then remove the indexing foot rod, leaving the stop collar in place. Reinstall the indexing foot on the other side of the jig, using the stop collar to match the spacing of the first pull (left photo). You can also install single knobs just as easily by using only the fixed leg and drill guide bushings to position the single screw hole (right photo).
VIDEO: 3 Ways to Installing Cabinet Knobs and Pulls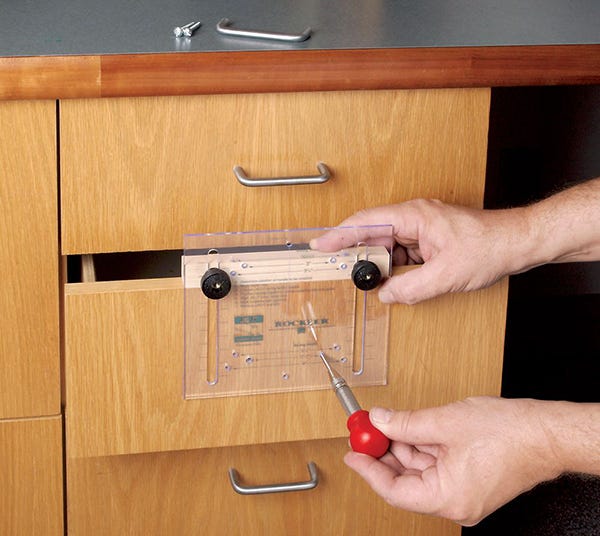 The Rockler Drawer Pull JIG IT® Template and Center Punch makes marking hardware screw holes simple, quick and accurate! The included Center Punch is sized and designed for use specifically with this template. It indents the wood for perfect drill-bit alignment (and perfectly straight knobs and pulls!) every time. The JIG IT® template, along with the Automatic Center Punch, ensures that you can achieve professional results quickly and easily on either assembled or unassembled doors and drawers.
VIDEO: How to Use the Rockler Drawer Pull JIG IT® Template and Center Punch