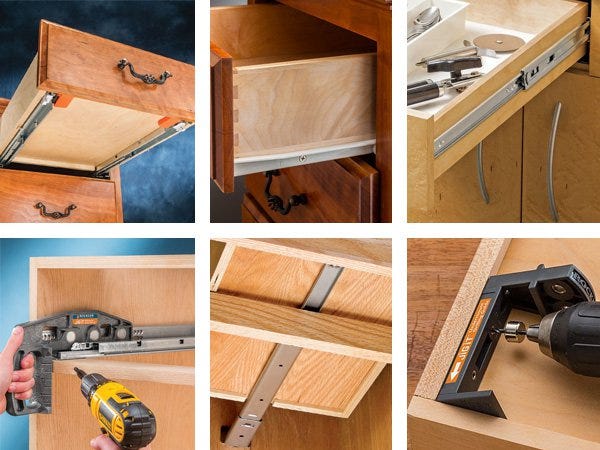 Considering the number of times you'll open a drawer over it's lifetime, it's easy to see why choosing the right drawer slide is an important decision. Many factors will play into your choice: price, features, finishes and even just a preference for the tactile feel of a given slide. This guide will help you zero in on the drawer slide that best fits your needs. Note: While there will always be a place for wooden drawer slides, this guide will focus on the metal drawer slides, which offer functionality not found on any wooden slide.
Drawer Slide Mounting Methods - Which To Use?
Metal drawer slides are offered in three basic types: side-mount, undermount and center-mount. The amount of space between your drawer box and the cabinet opening will affect your decision. If you are replacing existing drawer slides, you should stick with the type you have, since the drawer is built for specific clearances meant for that type of slide. If you are building new, you have the freedom to choose according to your needs. Read on to learn about the three different drawer slide mounting methods.
| | | |
| --- | --- | --- |
| | | |
| Side-Mount | Undermount | Center-Mount |
Side-Mount
As their name alludes to, side-mount drawer slides mount to the side of the drawer box. They are common on everything from utility cabinets and toolboxes to kitchen cabinets. Side-mount drawer slides are available in ball-bearing versions and epoxy/Euro versions, which have a nylon roller that rides in a track. The ball-bearing types offer the benefits of smooth ball-bearing operation, high load capacities, and options for full-extension and over-travel. They also typically include a detent as standard, which keeps the drawer from creeping open if the cabinet is slightly out of plumb. The epoxy-coated versions offer self-closing action and an opening detent, which keeps the drawer open for easy access as you work. These slides require clearance – usually 1/2" – between the drawer slides and the sides of the cabinet opening.
---
Undermount
Undermount drawer slides offer two benefits that side-mount slides do not: they are totally concealed beneath the drawer, and, since they don't require as much space on the sides for clearance, they offer slightly more storage area inside the drawer. Keep in mind, though, that you will lose a bit of drawer height inside the drawer, since the slides require added clearance beneath the drawer. Undermount drawer slides also commonly sport premium features like soft-close, which has made them a top choice for high-end cabinetry. The drawer boxes have specific requirements for side thickness, drawer dimensions, and often require notching at the back, so be sure to check the spec sheets if you are building drawers. Check out our Blumotion slides for a popular example.
---
Drawer Slide Tip

We've designed a special jig that makes it easy to drill the holes needed to install undermount slides!
---
Drawer Slide Tip

See our Undermount Drawer Slide Jig for a fast, foolproof way to position undermount slides perfectly level inside the cabinet!
Center-Mount
Center-mount drawer slides are an older type of drawer slide that still sees use today, although they are more often sold as replacements for older cabinets. Like undermount slides, they are totally concealed, but instead of being mounted under both sides of the drawer, a single slide runs down the middle. Because they have limited weight capacity, center-mount slides are typically only available in 3/4 extension, and usually lack features such as soft-close and self-close. Center mount drawer slides are sold as single slides. They are available in classic wood version or ball-bearing versions. The required clearance depends on the thickness of slide.
Shop by drawer slide type: Side-Mount | Undermount | Center-Mount
What Extension do I Need?
| | | |
| --- | --- | --- |
| | | |
| 3/4 Extension | Full Extension | Over-Travel |
Extension refers to the distance the slide/drawer travels in relation to the slide length. There are three basic types of extension: 3/4, full and over-travel. 3/4 extension, the most economical option, means that the drawer box only extends about 75% of the length of the slide. Full-extension means that the drawer box extends out from cabinet the full length of the slide. ''Over-travel'' means that the drawer box travels entirely out of the cabinet by an inch or so, useful for accessing items at the back of the drawer. What extensions are available depends on what mounting method or type of slide you select. Center-mount slides and epoxy slides are typically only offered in 3/4 extension. Side-mount ball-bearing slides are typically available in all three options: 3/4, full and over-travel. Undermount slides are typically only offered in full-extension—since they are a premium slide, it is assumed that full-extension will be required.
Shop by extension: 3/4 Extension | Full Extension | Over-Travel
What Motion Features are Available?
Drawer slides are available with three basic motion features: Self-Close, Soft-Close and Push-to-Open (sometimes called ''touch-release''). Some types of drawer slides include a given motion feature by default, while others offer it only as an option, as described below.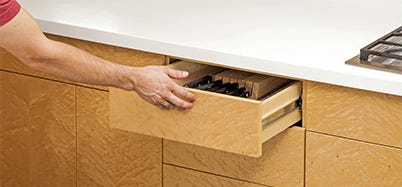 Push-to-open feature
Self-Close
Self-close means that the drawer will close itself when it reaches the final few inches of travel. In the hustle and bustle of cooking a meal, it's easy to leave drawers slightly open, or to close it too hard and have it bounce back. That's where a self-closing slide will step in and dutifully correct the error. The basic self-closing slide closes the drawer abruptly, either with an optional spring mechanism, as on telescoping models, or with a ramped track, which is included by default on epoxy slides.
Soft-Close
To prevent an audible clunk upon closing, soft-close models use a damping mechanism that slows the closing of the drawer in the final few inches. Not only does this help to prevent unnecessary noise and shifting of drawer contents, but it also helps to prolong the life of the drawer slide by reducing wear and tear.
Push-to-Open (Touch Release)
If you wish to minimize visible hardware on the exterior of the cabinet, push-to-open drawer slides allow you to forego drawer pulls entirely. When you push on the drawer face, a spring mechanism pushes the drawer open enough that you can easily reach into the drawer and pull it open. This makes it possible to achieve a clean, modern look, and also save some money. Push-to-open slides are also popular wherever clearance or lack of space is an issue, in mobile homes, for example, or in tight corners where a drawer pull would collide with adjoining cabinets or other architectural elements when opened.
Shop by motion feature: Self-Close | Soft-Close | Push-to-Open
What Load Rating do I Need?
Generally speaking, standard metal drawer slides support enough weight for everyday use in the kitchen. These slides are typically rated for loads from about 75 to around 100 lbs. However, there are some situations where a more robust slide is needed. For drawers that will support more weight than usual — large file drawers, pantry pull-outs or tool drawers, for example — look for a Heavy-Duty slide. These are built from thicker metal, with more ball bearings to maximize durability.
What Finishes are Available?
If you want your drawer slides to match your hardware, you'll be happy to learn that we offer slides in a range of finishes. While finish matching is most common in furniture pieces, it can also be used in high-end cabinetry to up the style factor, or to help the hardware blend in.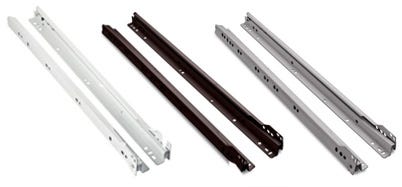 Epoxy slides are available in white, brown and gray.
What Slide Length?
Most drawer slides are available in a range of lengths, usually in increments of about 2''. It goes without saying that you'll want to minimize the amount of dead space at the back of the cabinet by selecting a slide that is as long as possible, but make sure the slide has plenty of room in the cabinet for proper operation. Take into consideration any obstacles inside the cabinet, such as nailers or stretchers, as well as whether your drawers are full inset or overlay. Full inset drawers will reduce the maximum depth of the drawer. Typically, side-mount ball-bearing slides should be the same length as the drawer box. For undermount slides, be sure to check the spec sheet—drawer boxes for these slides must be built to specific depths (front to back) in order to work properly.
Special Application Drawer Slides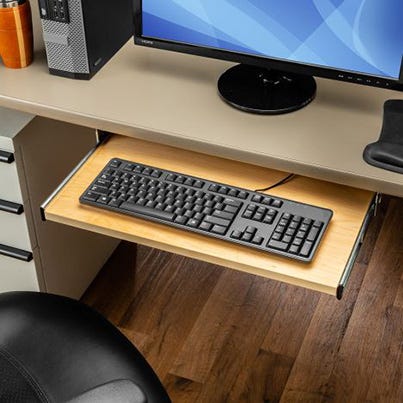 Keyboard slides provide a clutter-free desktop. Most include brackets for mounting beneath your desk.
If you're building anything other than a standard drawer, chances are good that a special-application slide is available for it. These can include anything from light-duty slides for keyboard trays to robust slides for pantry pullouts, garbage pullouts, and ''heavy-duty'' slides intended for large file drawers and tool drawers. Extra-long slides in lengths up to 60'' are also available for truck beds, mobile homes and other specialty uses.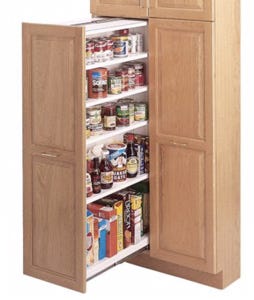 These Pantry Slides include three slide sets; two mount to the bottom and one on top for smooth-riding, over-travel, full access.
Shop by specialty slide: Keyboard | Pantry
Hopefully these tips will get you on track for selecting the right slide for your project! Don't forget that we have expert staff in our stores, online and available by phone to help out if you have a question that's not answered here.