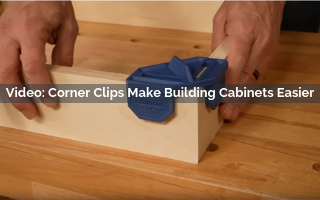 One of the most important factors when assembling cabinets is to make sure the case pieces are square to each other. And, assembling cabinets can be a challenge when you're working alone. Learn how the Rockler Clamp-It Corner Jig and Corner Clips make it easier to assemble perpendicular cabinet and box corners.
Corner Clips Make Building Cabinets Easier - Video Transcript
Rob Johnstone: Assembling 90-degree corners is a huge part of woodworking. Putting those corners together accurately, while it's not advanced joinery, can be a little tricky, especially if you're using miters at the corners. With that in mind, I'd like to introduce you to a couple of products that I think you'll find extremely useful. If you're like me, you often find yourself working alone in your shop and wishing that I had a third hand to hold things in place while I was trying to get my work done. That's why when Rockler came up with this clamping system a few years ago, it became such a popular thing.
This system works well regardless of the corner joint you're using, be it a simple corner butt assembly, a more complicated but more easily aligned rabbeted joint, or the corner joint we all love to hate, the classic miter. Miter joints are really simple in concept, but holding them aligned as you're constructing them can be a little bit frustrating. When they're done well, they look great, but when they're done poorly, they look just terrible. As I mentioned earlier, aligning the miter corners is the key to getting success with this joint. That's why this Clamp-It corner system is so great. It's actually that third hand that I've been looking to have all these years. Then they've come up with this corner clip system, which allows me to secure the top of the miter joint so it aligns the top corner, frees my hand so I can go ahead and grab a clamp to complete the task. Now, I'm fully aware that many of us have built our own corner holding system for assembling cabinetry, myself included, but I really like these little clips. They're easy to use, you can put them in with one hand, they're inexpensive and they stack for storage. So, if you've got some casework coming up in your future, consider the Clamp-It corner system with these new corner clips. I think it will make your life easier and you'll enjoy it.
I'm Rob Johnstone from Woodworker's Journal. Thanks for watching and keep on making sawdust.