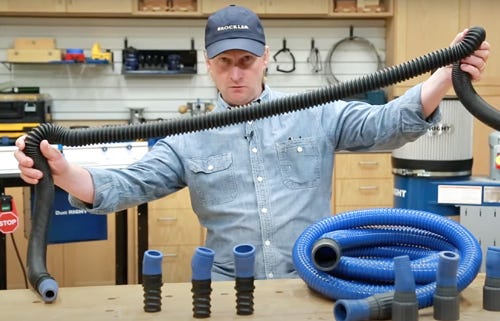 Check out these quick and easy updates you can make to improve your woodworking dust collection system. Whether you use a large ducted system or you only use a shop vac, you'll find something in this demo that will improve the dust collection in your woodworking shop.
Install Quick Change Handles and Ports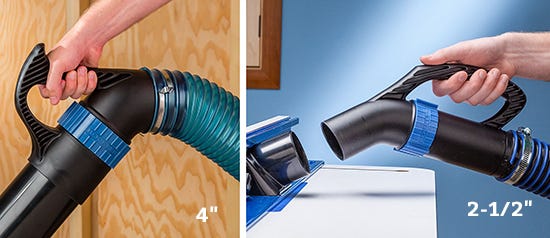 Let's start with making it easier to connect your dust collector hose to your tools. Most shops either run dedicated lines to each tool or they have one main hose that gets moved from tool to tool, and that means loosening and tightening a hose clamp each time.

Installing Dust Right Quick Change Handles to the end of your collection hose and a Dust Right Tool Port to each tool makes it easy to connect and disconnect your dust hose to any tool. They're available in both 4" and 2-1/2" sizes. You can also attach the 4" handle to a number of handy vacuum accessories, such as a floor sweep or bench nozzle.

These handles also feature this airflow adjustment valve that slides to adjust the suction power depending on the application. For example, if you're moving from using the dust collector with a table saw that requires a lot of air draw to a sander that doesn't require as much air draw you can open the valve and reduce the suction.
Create Connection Stations with Dust Right Mountable Couplers

At first glance the Rockler Mountable Dust Couplers may not seem very interesting, but these couplers allow you to create hose attachment locations wherever you need them in your shop. For example, let's say your table saw port is tucked under an outfeed table or faces down under the saw. Instead of crawling under the table or saw to connect your hose, you simply attach one of these couplers to a wall or bench location that's much easier to access. Or use the 2-1/2" to 4" coupler to create a transition so that it's easy to make a secure connection from your 4" hose to smaller tool ports. Once you start thinking about it, you're likely to come up with a lot of creative application that will make your shop more efficient.
Connections That Fit Small Tool Ports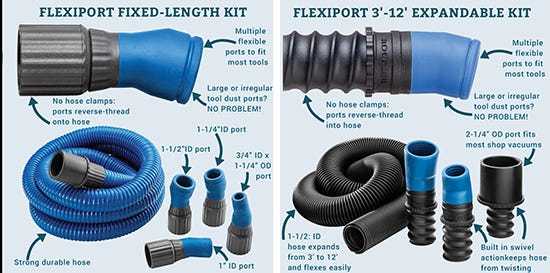 One of the challenges with small tool ports is that they come in many sizes and shapes. Finding a hose or fitting that connects properly to a small tool port can be frustrating. I'm sure most of us have resorted to the old trick of wrapping the connection with a lot of tape - it's not ideal.

The Dust Right FlexiPort Hose Kits feature a hose and a compatible set of interchangeable flexible ports. They're available in two kits. The FlexiPort extendible dust hose stretches from 3 to 12 feet, making it perfect for benchtop work, compact storage and portability. The FlexiPort 12' Fixed-Length Hose Kit works well for stationary work stations that benefit from a more ridged fixed length hose.

Both versions are an upgrade from standard shop vac hoses.
Control Cord and Hose Tangles with Dust Hose Cord Clips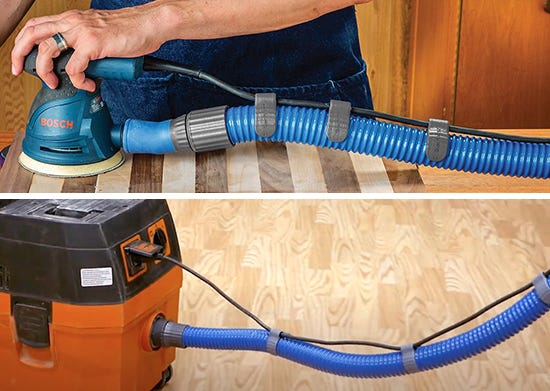 Here's a great solution if you've ever dealt with the tangle created by cords and hoses when you work with tools that are connected to a mobile shop vac. These Dust Right Dust Hose Cord Clips snap onto the dust hose to keep the power cord and hose moving together.

They're such a quick and simple fix to a what can be a very frustrating problem.
Set-Up Your Router Table with a Dado Dust Chute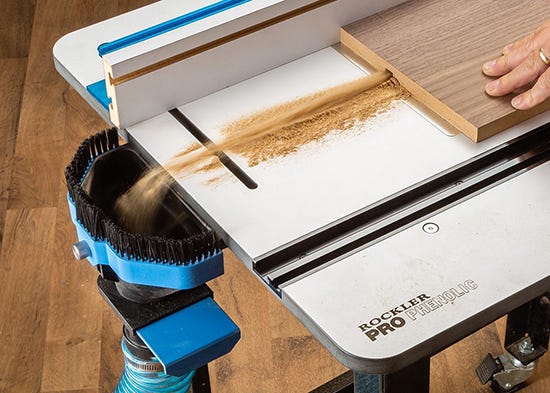 Here's a cool new accessory for router table owners. If you've ever cut a dado on your router table than you know the jet stream of saw dust that shoots out of the dado. It's got nowhere else to go. So our brilliant design team came up with the Dust Right Router Table Dado Dust Chute! It's a new innovation from that's already won awards.

This clever device attaches to the side of your router table to captures the blast of saw dust before it ever hits the floor. The adjustable bristle backstop is raised just above the table to stop the dust as it shoots over the edge, but the bristles bend easily out of the way as you slide your workpiece across the table. Once installed, you can leave it in place, since the integral blast gate lets you close it off when not needed, and the bristles can be easily lowered if necessary.
These are just a few ideas that will help improve your dust collection system. It really depends on the type of work you do in your shop. Now if you've got more questions about setting up a dust collection system, don't worry, we've got demos coming up that will cover things like how to choose the right components and set up a system – so keep joining us each week for a new demo.