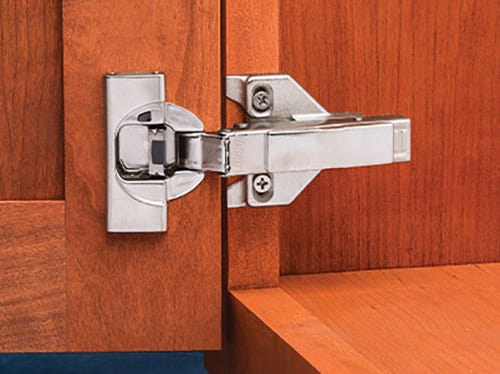 With so many options available for European hinges, picking the right one can seem confusing. Don't fret—it's not as confusing as it seems. This guide will help you narrow down the field with a series of 5 simple questions.
Let's make sure Euro hinges are the right choice for you. Below are some of the primary benefits that woodworkers and cabinetmakers have come to love about European hinges.
1. They are totally concealed, lending your cabinets a clean, modern look. This also means you don't have to worry as much about matching the hinges to your knobs and pulls, something that can be surprisingly difficult, especially with darker finishes.
2. They offer easy three-way adjustments: left and right, up and down, and in and out from the cabinet face. This lets you align the doors precisely so they're level, and the gaps between adjoining doors and drawers are all even. Adjustability offers ''fudge room'' and peace of mind during installation, since you don't have to get everything perfect on the first try.
3. Installation is easy, and they don't require extensive machinery or tools to install. All you need is a hand drill! The holes for the hinge cups can be drilled using our Concealed Hinge Drilling Guide and the holes for the hinge plates can be drilled with our JIG IT® Hinge Plate Templates.
If European hinges sound like your speed, read on to find out how to choose the right one.
---
Hinge Tip

Before you build, be sure to find your hardware first. Selecting hardware should be a critical element in the initial design stage. Making a minor change in a project design to match the required hardware is much easier than reworking a project because the hardware you thought would be available can't be found.
1) Face Frame or Frameless Cabinet?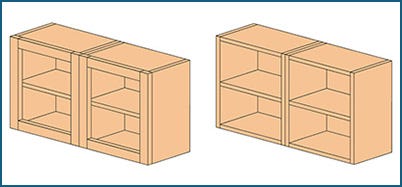 Faceframe Cabinet (left) & Frameless Cabinet (right).
First we have to find out whether you have (or are planning to build) a "face frame" cabinet or a "frameless" cabinet (often called a "Euro" or "European" cabinet). If it's an existing cabinet, open the door and look at the face of the cabinet, where the door hinges attach. Is there a solid wood frame on the front of the cabinet that you can hook your fingers on? If so, you have a "face frame" cabinet. If instead, the 3/4" side panel of the cabinet extends all the way to the front in a single plane, and is covered by a strip of veneer tape, you have a "frameless" cabinet. There is a misconception that European hinges are only for European cabinets. This is not true, but when you select your hinge kit, be sure it says either "face frame" or "frameless" to match your type of cabinet.
Shop by cabinet type: Faceframe | Frameless
2) Compact Hinge or Long Arm Hinge?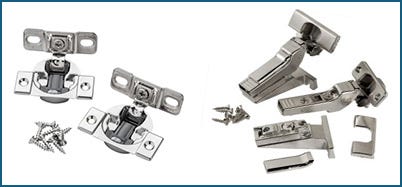 Compact Hinge (left) & Long Arm Hinge (right).
For both face frame and frameless cabinets, you can choose between two basic types of Euro hinges, Compact and Long Arm. Compact hinges are a good choice if you want to maximize space inside the cabinet, and they tend to be more affordable. Long arm hinges give you the added benefit of ''clip-on'' installation. Clip-on hinges let you easily remove the doors for painting, finishing or just a good cleaning. Long Arm hinges are offered for both face frame and frameless cabinets. Long arm hinges also hold the door significantly closer to the cabinet than compact hinges do.
Shop by hinge type: Compact | Long Arm
---
Hinge Tip

Replacing existing hinges starts with trying to identify the manufacturer. Their name is often stamped on the hinge itself. If it isn't, go through the buying guide as if you were buying a new hinge. This should direct you to the best replacement hinge option. Don't forget that you can also upgrade a replacement hinge with one that has the exact same functionality, but with some new features like soft closing mechanisms.
3) Full Inset, 3/8" Inset or Overlay?
| | | |
| --- | --- | --- |
| | | |
| Full Inset Door | 3/8" Inset Door | Overlay Door |
Next you'll need to decide whether your doors are full inset, 3/8" inset or overlay. Full inset doors lay perfectly flush with the front of the face frame or frameless cabinet. 3/8" inset doors have a rabbet (typically 3/8" x 3/8") around the edge and sit halfway inside the cabinet. For overlay doors, no part of the door sits inside the cabinet/face frame—the full thickness of the door overlays the cabinet. Overlay doors extend past the cabinet opening by a specified dimension. The overlay dimension is listed for each hinge, and refers to the amount that the hinge side of the door overlays the cabinet opening. For replacement hinges, you'll need to measure this with a tape measure. Use a pencil to make a small mark where the hinge side of the door overlays the cabinet face. Then open the door and measure from the inside of the cabinet front to the tick mark that you made. Check out the video for an easy how-to.
Shop by door type: Full Inset | 3/8" Inset | Overlay
---
Hinge Tip

How big are your doors? You do not want to install too many hinges on a door, but you need enough to support the door over time. Two hinges are the common configuration, but for larger doors, three or more hinges may be needed. Refer to our door size and hinge count graphic to determine if you need more than two hinges per door.
4) Snap-Close, Soft-Close or Free-Swinging?
Nearly all European hinges are self-closing. However, there are two types of self-closing hinges: snap-close and soft-close. Snap-close hinges close abruptly, engaging in the final few inches of travel. Soft-close hinges close gently, also engaging in the final few inches, but dampened by a special mechanism that's either built into the hinge or offered separately. Free-swinging hinges are typically made available only for small or narrow doors that would otherwise slam shut too forcefully. Often, free-swinging hinges are offered alongside self-closing hinges that are otherwise identical. Installing one free-swinging hinge and one self-closing hinge per small door lessens the closing force.
Shop by closing mechanism: Soft Close | Snap Close | Free Swing
5) Degree of Opening?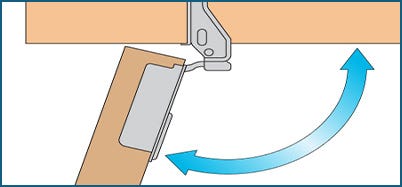 Illustration showing Degree of Opening
Once you know the overlay, whether you want a Compact or Long Arm Hinge, and whether or not you want soft-close, you should be able to make most of your selections. However, in certain situations, you may need a specific opening angle. The vast majority of European hinges have a 110° or 120° opening angle, and this will do for most situations. The following are a few situations where you may need a different opening angle:
If the cabinet is against a wall, or in a corner, you may need a restricted opening angle, such as 90°, in order to keep the door from banging into the adjoining wall or cabinet. Whether or not this applies will depend on the width of the face frame stile/scribe strip and the width of your door—wider doors will have a greater tendency to hit the wall.
If your cabinet will have pull-out shelves, or will house large items that are close to the full width of the cabinet, you'll need Zero Protrusion hinges. These hinges pull the door completely clear of the opening, leaving space for the shelf or item to be pulled out.
If you need hinges for a corner cabinet that houses a lazy susan, you'll need a Pie Corner Hinge Kit. These are available in various configurations to fit the specific type of corner cabinet.
And that's all there is to it! Armed with answers to the 5 questions above, you can start making your selections. If you're outfitting a full kitchen, be sure to take into consideration the unique requirements of each cabinet. And don't forget that we have an expert staff in our stores, online and available by phone to help out if you have a question that's not answered here.