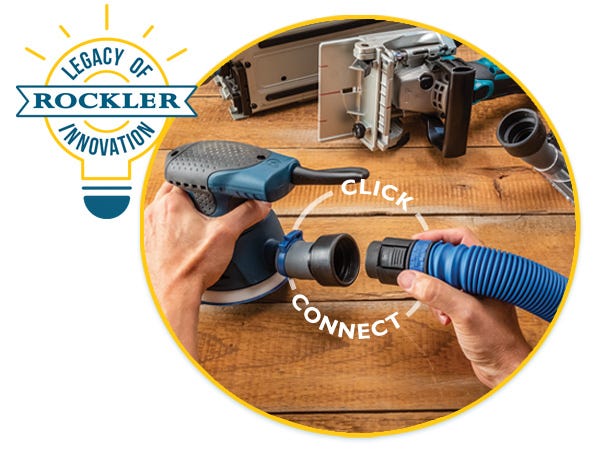 What is the best wood dust collection hose for small power tools? Small benchtop tools and held power tools, such as sanders, circular saws, and track saws generate a lot of dust right where you least want it: directly under your nose. Unfortunately, the confusing array of non-standardized small dust ports on these power tools makes it hard to connect a dust hose—until now. The Rockler 3' to 12' Expandable FlexiPort Hose Kit and 12' Fixed Length FlexiPort Hose Kit feature tool port fittings that flex to fit on almost any tool and a 2-1/4'' hose port fitting that connects to most shop vacuums and dust separators. Plus, a redesigned quick connection system makes it faster and easier to connect and disconnect the hose to your tools.
The FlexiPort Power Tool Hose Kit with 3' to 12' Expandable Hose includes four FlexiPorts of varying diameters, plus the Click-Connect Hose Adapter, which threads into the included Expandable Hose. The new blue hose is lighter in weight than the older black hose, for less tendency to pull or add resistance to your tool movement.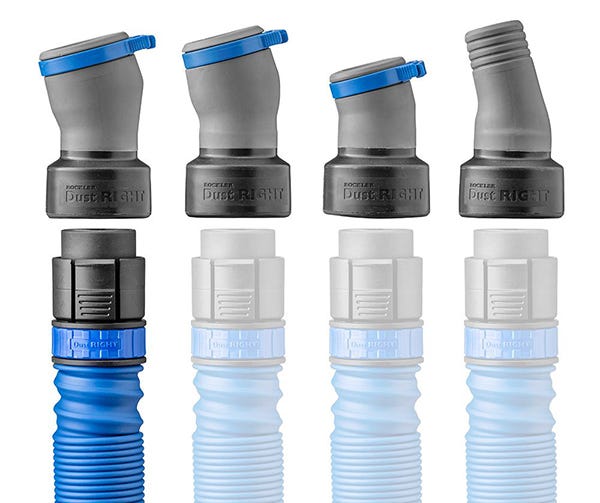 The kit includes four swiveling FlexiPorts: (left to right) 1-1⁄2" ID, 1-1/4" ID, 1" ID, and 3/4" ID.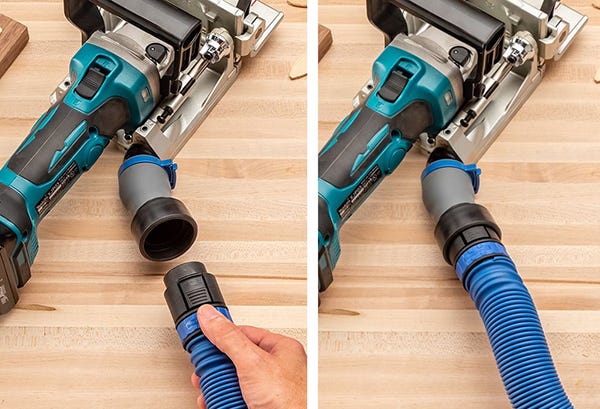 Never before have you experienced an easier system for controlling the dust from handheld power tools. This updated Flexiport Hose Kit offers all the features of our well-loved original FlexiPort system, plus the Click-Connect feature for fast, easy switching of a single hose between multiple tools! Leave the included rubber Click-Connect FlexiPorts on your tools and switch the hose from port to port with a secure "click".
A vent collar lets you adjust the suction level—perfect for reducing swirl marks when orbital sanding.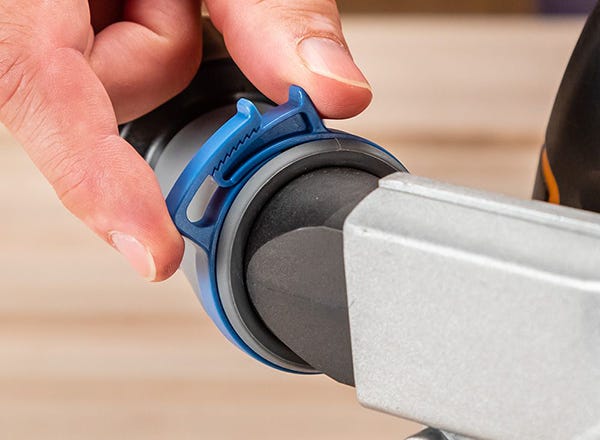 Three of the four FlexiPorts have a clasp that you can ratchet down for a secure connection to the tool.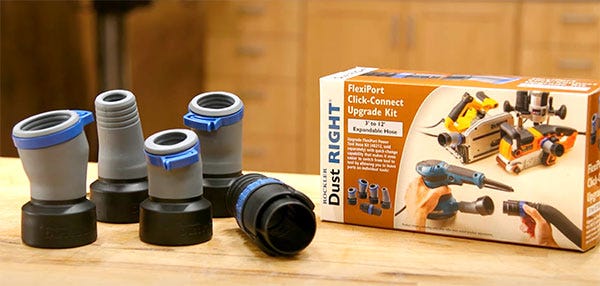 If you already have the original FlexiPort Flexible Hose Kit, you can upgrade with ports with the Dust Right Click-Connect Upgrade Kit. This kit includes a new Click-Connect hose fitting and four replacement Click-Connect tool ports.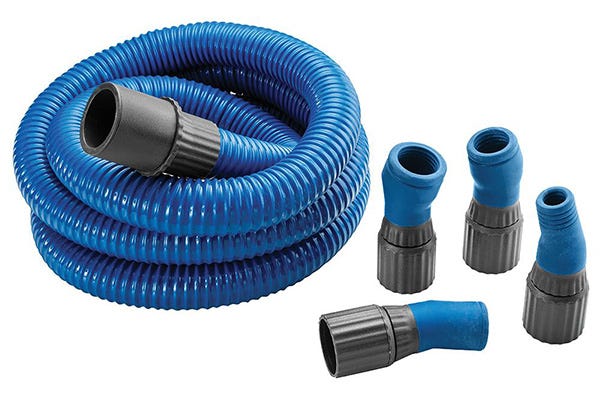 Four flexible rubber ports connect the fixed-length dust hose to a wide variety of handheld tools, even those with odd port shapes! This kit includes a 1-1/2'' OD x 12' hose with four sizes of pliable rubber couplers, which flex and stretch to fit onto a wide variety of ports, whether oval, rectangular, circular or otherwise. On the other end of the hose, a rigid 2-1/4'' port connects to most shop vacuums, dust separators, like our Dust Right® Dust Separator (#45556, sold separately), or our optional Cord and Hose Holder (#47321, sold separately).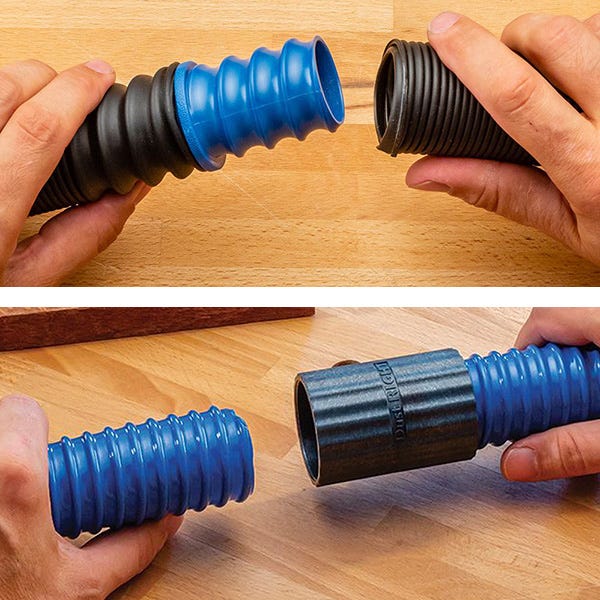 Double your reach by joining two Expandable FlexiPort Hoses or two Fixed-Length FlexiPort Hoses .
FlexiPort Dust Canister