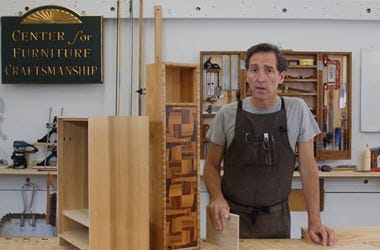 A carcase miter is a miter, a 45-degree joint usually, on a wide board that makes a carcase, as in a cabinet or case piece. The special aspect to using a miter in case construction is that it allows the grain to "wrap around" the piece.
How to Cut Carcase Miters with Tim Rousseau
In this video, Tim Rousseau, an instructor at the Center for Furniture Craftsmanship, demonstrates how to cut a carcase miter. The simplest methods of cutting carcase miters are using a table saw; either a cabinet saw, or a sliding table saw.
Most smaller shops will only have a regular table saw which works as well using a miter bar and a sacrificial fence. As with any cut, make sure that everything is square, and the blades are sharp. Use a 45-degree angle and/or a digital angle gauge to adjust the saw blade, make test cuts to verify the miter pieces will come together perfectly square and adjust until there are no gaps.
This video teaches a great technique they call "The Perfect Miter" that uses zero clearance and sacrificial fences to achieve clean and safely cut miters!
Check out the video above for a step by step walk through of how we cut carcase miters at the Center for Furniture Craftsmanship.
Related Product Categories