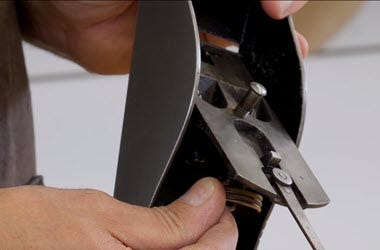 As with many woodworking tools, the hand plane dates back thousands of years. Hand planes use good old fashion muscle power to smooth and shape wood. They are a versatile and reliable tool for many woodworking and home improvement projects.
How to Set A Handplane with Tim Rousseau
Proper use and maintenance of a hand plane is essential to ensure it remains in proper working condition throughout its life. There are many types of hand planes on the market today, smoothing planes, block planes, jack planes and shoulder planes to name a few. Each are designed for specific woodworking task, but the manner of using and maintaining them is similar for all.
In this video, Tim Rousseau, an instructor at the Center for Furniture Craftsmanship, demonstrates how to set a handplane back up after it's been sharpened. It's very common to see people sharpen the blade and put it back in their plane and want to go right to the project they're working on without checking to see if the wood plane is cutting the way they want it to.
You can sharpen A hand plane iron in couple different manners. Whether it's straight across or a slight camber for a smoothing plane and then it gets reloaded with a chip breaker if it's a standard bench plane. If it's a bevel up type of hand plane, you would simply load the plane back into the body.
The relationship on a bench plane between the chip breaker and the blade is one that you'll want to consider. You want a slight protrusion of the blade beyond the chip breaker. Sometimes when you're reloading it to a standard bench plane, you'll find that there is some slop in the yolk mechanism that's linked to the adjuster. That's common, it's not an error, you'll see that even in modern high quality hand planes.
Check out the video above for a step by step walk though of how to set your hand plane back up after it's been sharpened.
Related Product Categories