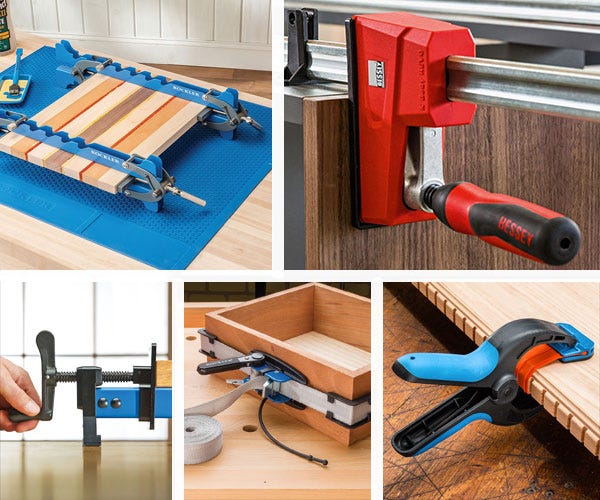 There are some tools that just about every woodworkers needs, and clamps are at the top of that list. This is a list of the top 10 most popular and useful woodworking clamps. The best clamps for your woodworking will depend on the projects you make, but these are the clamps that will be useful in most workshops. See how many of these you have in your shop and maybe there will be a few you didn't know you needed.
Top 10 Woodworking Clamps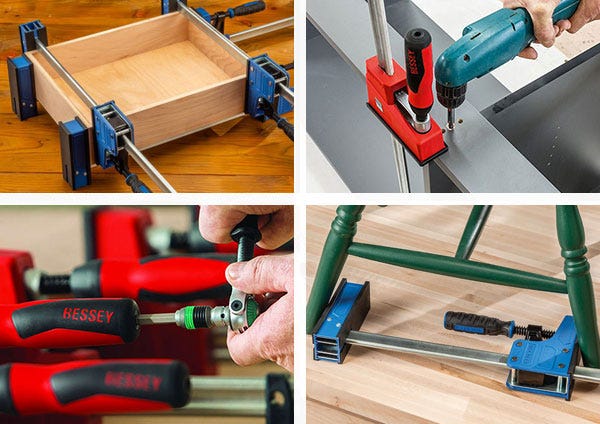 One of the most popular and versatile types of clamps are Parallel Jaw Bar Clamps or simply parallel clamps. These clamps can be used for a wide range of applications, but their primary purpose is clamping projects that you want to keep flat, such as panels and doors. The defining feature of this type of clamp is that the jaws remain parallel as you exert force. This keeps the force in alignment with the parts you are clamping and helps prevent bowing or flexing. The face of these clamps are wide enough to also use them on their sides (top right photo) to distribute force over a wider area.
The Bessey K-Body Revo parallel clamps feature a hex socket in the end of the handle (bottom left photo) that allows you insert a 6mm hex wrench or socket wrench to tighten the clamp, making it much easier to turn and tighten the handle if you have trouble with grip strength or rotating your wrist.
The end of many parallel jaw bar clamps can also be flipped, converting it into spreader clamp that pushes out (bottom right photo). This is perfect for disassembling furniture.
Bundle and Save!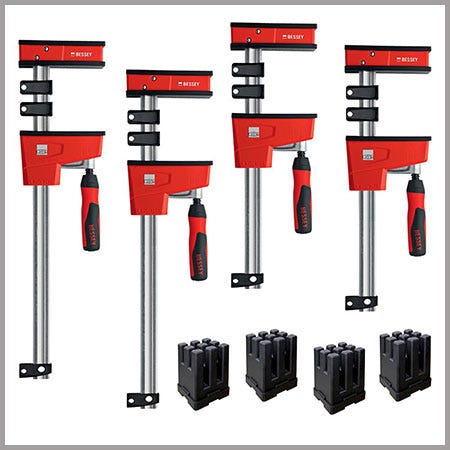 Bundle and save with this clamp package from Bessey! This Bessey REVOlution Parallel Clamp/Framing Kit includes two 24" and two 50" clamps, plus four KP 90° clamping blocks for easy rectangular assemblies. Everything you need to assemble your next cabinet or frame.
2. Spring Clamps
One of the smallest and most versatile clamps for woodworking are Spring Clamps(left photo). They're great for everything from clamping a small glue up to hanging an extension cord or securing a table cloth on your picnic table.
The Rockler Bandy Clamp (center photo) upgrades the typical spring clamp with extra large padded jaws and a reinforced clamping band, making it the perfect clamp for securing edge banding, as well as all the other applications of a spring clamp and more.
Another innovative variation of the spring clamp are these Dust Right Clamping Hose Holders (right photo) that feature a built-in hose clamp. A great solution for securing point-of-source dust collection right where you need it.

If you glue up a lot of panels, be it for table tops, cabinet sides, doors or cutting boards, then these Rockler Deluxe Panel Clamps (left photo) and Mini Deluxe Panel Clamps (right photo) will be your new best friend in the shop. Both sizes provide four-way pressure that both squeezes the glue joints together and holds the boards flat while the glue cures. The larger Deluxe Panel Clamp accepts panels from 3/4" to 3" thick and 10" to 36" wide and are sold individually. The Mini Deluxe Panel Clamps accept panels from 1/2" to 1-1/2" thick and 5-1/2" to 16" wide—great for cutting boards. The set includes two Mini Deluxe Panel Clamps, plus a convenient wall rack for hanging the clamps!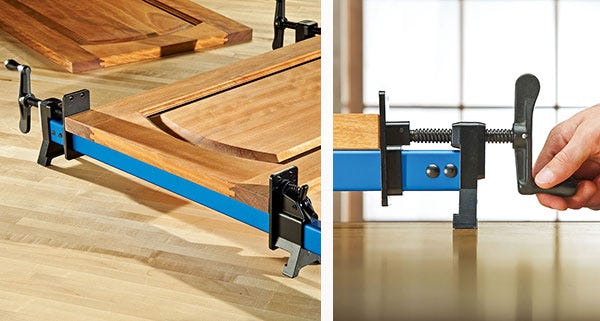 Rockler Sure-Foot Aluminum Bar Clamps are lightweight and easy to use. They're available in 24" t0 60" lengths, feature a wide 2-1/2" foot, raised base and built in hanger hook for easy storage.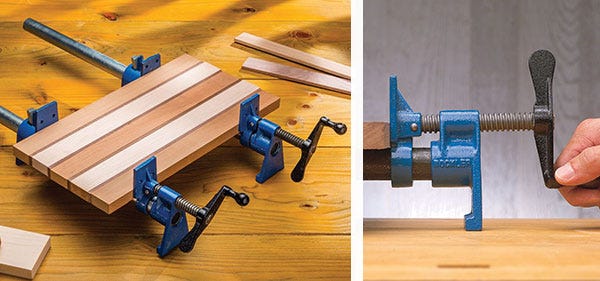 Rockler Sure-Foot Plus 3/4" Pipe Clamps thread on standard 3/4" pipe, so you can custom size them to suit your needs. Tall jaws provide a full 2-1/4'' of throat depth—a half-inch higher than typical pipe clamps. They also feature extra-wide 2-1/2" base for stability and raise the clamp 3" off the bench, making it easy to turn the handle without knocking your knuckles on the work surface.

F-Style clamps are among the most popular clamps in any workshop. Rockler Sure-Foot F-Style Clamps remarkable stability when stood upright on the bench. With the no-tip stability of the Sure-Foot base married to an F-style clamp body, you can set them out as needed, leaving both hands free for positioning and clamping your work. The redesigned handle provides exceptional grip and leverage, while the tried-and-true quick-release clutch enables quick closing without any slippage. The carbon steel bars are impressively rigid, allowing up to 660 lbs. of clamping force. Rockler offers this clamp in five lengths ranging from 6" to 36".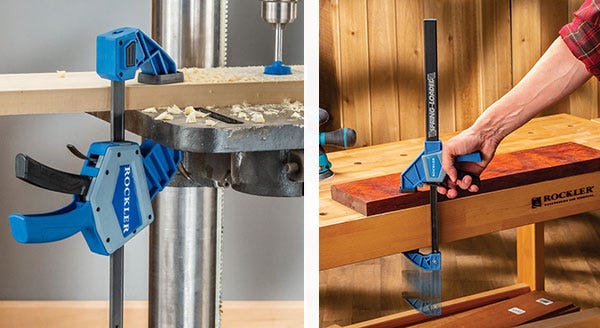 Quick-Action Clamps are extremely popular due to their versatility and ease of one-handed use when working on everything from woodworking projects to DIY projects around the house. Rockler offers a couple different options that are considered quick-action clamps. First, the Rockler One-Handed Bar Clamp features a smooth-operating four-finger trigger to cinch it tight, and a single-finger trigger to release and adjust the jaw quickly. It's available in four sizes from 6" to 24". Next, the innovative Rockler Spring-Loaded One-Handed Bar Clamp makes the quick-action clamp even quicker. Just squeeze the trigger and the spring mechanism closes the jaws in an instant! No repetitive pumping of the trigger and no need to use your other hand to close the jaws. You'll never experience a faster, more versatile clamp.

If you make cabinets, then you know it can be awkward holding the cabinet parts in position while you drive the fasteners. The Clamp-It Corner Clamping Jigs and accessories provide the extra hands' you need to hold your cabinet parts together. The Clamp-It Cabinetemaker's Bundle (right) includes everything you need to securely hold your cabinet parts in place whiie you assemble the cabinet.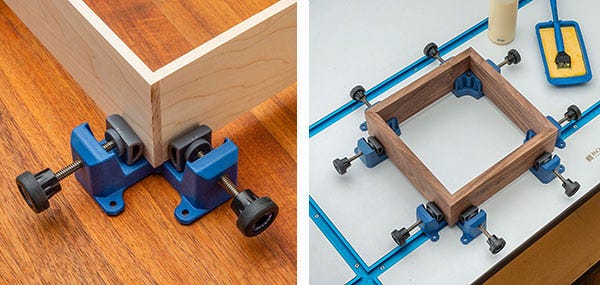 If most of your projects are small boxes, the Clamp-It Small Corner Clamping Jig is the best choice for you. This clamping jig holds material from 1/4'' to 1/2'' thick—great for building drawer boxes, jewelry boxes and other small decorative boxes. Each features screw holes allow mounting to fixtures, rubber foot pads to prevent slipping on your bench and a bolt that can be lowered from the base for mounting in a T-track (right).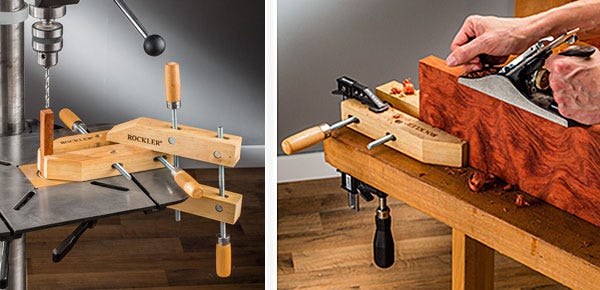 Wood handscrew clamps are one of the oldest style woodworking clamps you can use, but don't let the classic looks fool you. These clamps are still the best choice for some applications.Clamp-It Corner Clamping Jigs. The jaws can be angled or offset to keep parts from shifting. They're also great for holding workpieces on edge or can be clamped to a machine or work table. They're available in five sizes from 4" to 12".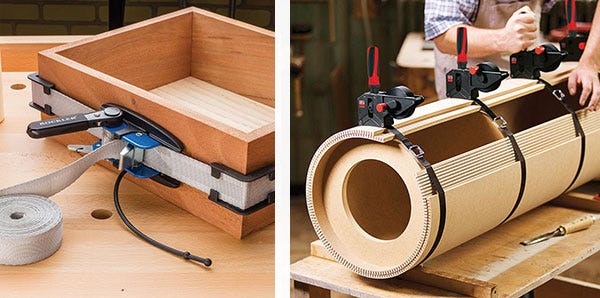 Another type of clamp that solves a problem like no other is the . A ratcheting post band tightens the band to exert uniform pressure on a variety of hard-to-clamp projects, such as boxes (left). Or, clamping round projects, as seen with this Bessey Variable Angle Strap Clamp (right).