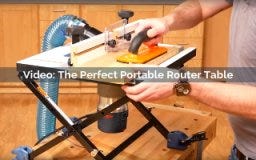 This compact and portable router table is ideal for small shops and jobsite use. The folding base on the Rockler Convertible Benchtop Router Table can be quickly reconfigured for benchtop use, wall-mounted use, or collapsed entirely for storage or transport. In addition, the unique router plate lets you quickly remove the router for freehand use, then dock it again for table use—the compact size of the plate makes it light and nimble in freehand applications.
The Perfect Portable Router Table - Video Transcript
Speaker 1: Getting organized and improving your stores in your shop, isn't the only way to improve your efficiency. Sometimes a tool can do that for you. Like being useful when you need it, and fold it up and out of the way when you don't. That's where this Rockler convertible benchtop router table, really shines. It's a fully equipped router table that can be used as a benchtop tool or mounted on a wall. As a benchtop tool, it's compact and sturdy, and includes all of the features you'd expect on a full-sized router table. It folds flat for easy transport and storage. It also provides stable and secure routing when it's mounted on a wall. It folds flat when you're not using it. It's not in the way, perfect for small shops. The other awesome feature of this router table is they can go from table routing to handheld routing, without having to detach the base plate. I love it when a tool provides all the functionality I need, and yet it's easy to store what I'm done with it. That's what this convertible benchtop router table from Rockler does. It would make a great first primary router table in your shop if you have a small shop especially. It would also make a great secondary router table, and it's portable enough you could even take it to a job site.