In the past, you've recommended boiled linseed oil on curly maple to enhance the grain. I put linseed oil on maple and burl veneer test pieces and let them dry for four days. On one test, I added General Finishes top coat, but after four more days it remains sticky and tacky. What should I do? - Fred Stone
Michael Dresdner: First, check that you have boiled linseed oil, not raw linseed oil. Boiled linseed oil, flooded on and wiped off, should dry completely completely in two or three days. Raw linseed oil will take one to two weeks. If the can says "boiled linseed oil" but the oil is not drying, buy a new container.
Second, if you add a top coat, which is optional, use an oil-based one (Danish oil, oil-based-polyurethane) and not a water-based one. General Finishes makes both, and you did not specify which you used. Also, make sure the oil is fully cured before going over it with something else and that your top coat is not out of date.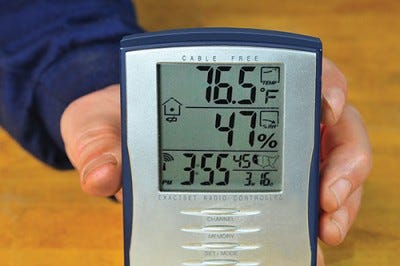 Boiled linseed oil takes two or three days to dry. Raw linseed oil can take one or two weeks. A thermometer and hygrometer indicate if the area is warm and dry — the way oil finishes like it.
Third, look to your environment. Very cold or wet air will substantially extend cure time in drying oils and oil-based varnishes. They are like cats; they prefer a warm, dry place.