Locking Trolleys for Rockler Ceiling Track System
Accepts a variety of hooks that keep cords and hoses off the ground—rolls along our Ceiling Track, or lock it in place for stability.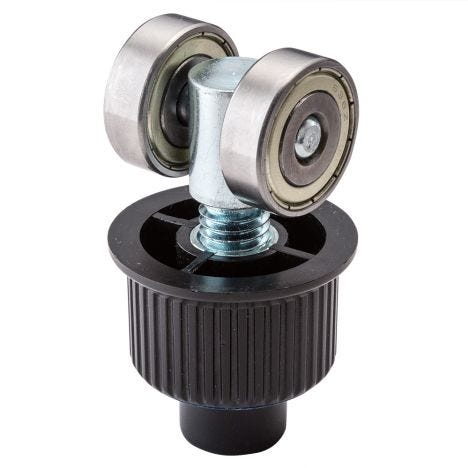 Our Locking Trolley accepts the full assortment of Rockler Ceiling Track System Hooks (#57333, #52443 and #50644, sold separately) for a variety of uses ranging from spraying cabinet doors to keeping cords and hoses off the ground. The trolley rolls along our Ceiling Track (#55845, sold separately), allowing you to move around your workspace without fighting cords and hoses while you sand, saw and rout. It can also be used to hang doors for finishing or to suspend task lights. If you want the trolley to stay fixed, it can be locked in place using the threaded collar. For example, if you are using several trolleys to hold doors for finishing, use the locking collars to prevent the doors from accidentally drifting into one another.
(1) Locking Trolley for Rockler Ceiling Track System
More Information
Tech Spec

Weight Capacity (per hook/trolley assembly): 20 pounds
Trolley Material: Steel/polymer