Maple by the Piece-3/4" Thickness
Fully surfaced on all 4 sides to actual dimensions.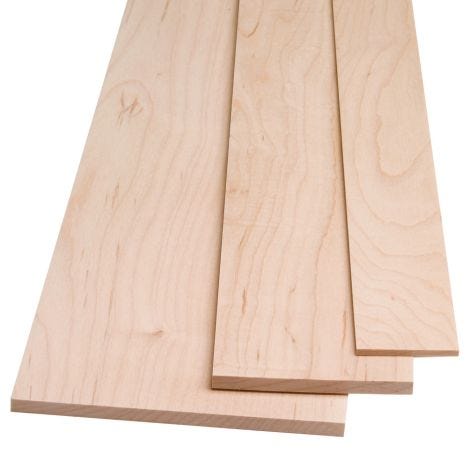 The classic American blonde, Hard Maple features creamy white sapwood with a reddish cast, and rugged durability. The wood has an exceptionally fine, even texture, and tight pores that yield an excellent finished surface. These thin boards are machined to 3/4" thickness, eliminating wear and tear on your planer. You won't have to worry about chipout, which is difficult to prevent when planing thin stock. Thin boards are ideal for edging, veneering, inlay, marquetry, sides for decorative boxes, bending stock, bent laminations and whatever else your imagination can dream up!
Lumber Details:
Tree: May reach a height of 70 to 120 feet, with a 24 to 36 inch diameter trunk
Sapwood Color: White with a reddish cast
Heartwood Color: Uniformly pale reddish brown or light tan
Grain: Usually fairly straight, but can also be curly or wavy. Sometimes exhibits decorative figuring like bird's eye, maple burl, blister, leaf, and fiddleback
Texture: Very fine and even
Working properties: Due to hardness, tools must be kept very sharp
Carving: Responds well to carving tools
Steam bending properties: Fair
Strength Properties: Very high bending strength. Resistance to compression parallel to the grain is high. Hardness is rated as medium. It is heavy, and resists denting and marring. Hard Maple can be up to 25 percent harder than Soft Maple
S4S - Surfaced Four Sides
Planed on top and bottom surfaces to be parallel.
Both edges are straight-line ripped perpendicular to top and bottom surfaces and parallel to each other.
This milling produces boards that are ready for your craftsmanship. All surfaces are parallel and square allowing ends to be cut square or at any angle you require. Boards with this milling can also easily be ripped to whatever width your project requires.
Great for all crafts, casework, furniture pieces, boxes, moldings...really any project!
(1) Maple by the Piece-3/4" Thickness
More Information
Tech Spec

Thickness: 3/4"
Species: Maple

Species
Maple
WARNING:

Drilling, sawing, sanding or machining wood products can expose you to wood dust, a substance known to the State of California to cause cancer. Avoid inhaling wood dust or use a dust mask or other safeguards for personal protection. For more information go to www.P65Warnings.ca.gov/wood.